En El Aire - Up In The Air. Yup. The Outcome of this tie is still up in the air
It was the match everyone was waiting for - the duel of the biggest clubs in world football. Those of us who have been fans for long enough still cherish the memories of our past 2 duels with Manchester United: with both encounters resulting in Madrid advancing on. Both encounters produced moments that are now forever enshrined in football folklore...
.
...The memory of Fernando Redondo using a backheel to nutmeg his way out of a dragnet of 3 Manchester United defenders at Old Trafford
...The 'champagne football' played out in the Bernabeu some years later. A certain Roman Abramovich was the guest of Florentino Perez at the VIP box that night. And mesmerized by what he saw that day, he decided to buy his own football club to pursue his own quest for the trophy 'with the big ears'
...Ronaldo's hat trick at Old Trafford. When he was subbed off, the world collectively saw the moment where English Football's fans had realized that there was a far more truly superior being to 'their football', and that they had just seen it and had nothing else to do but to stand and applaud it.
.
The relationship between the 2 clubs has been generally a good one. Last Tuesday, I read about
the heartwarming story
about how Santiago Bernabeu, offered more than a helping hand to Man U in the wake of the tragic events of the Munich air disaster. It spoke of the nature of the club and it seemed so far removed from Ramon Calderon's disgusting behaviour in his shameless pursuit for Cristiano Ronaldo some years back after falling flat on his face with his promises for (Kaka and Cesc - Robben came later). Calderon's behavior resulted in Alex Fergusons' now-famous 'I wouldn't sell them a virus' retort and it seemed then that the 2 clubs' relationships had reached an all-time low. Today, with a savvy Boardroom diplomat (Perez) at the helm and a coach + star player who has an open admiration for Ferguson (Mou + CR), the relationship between the 2 biggest clubs in world football is in much better shape. And so the stage was set for what was supposed to be another encounter made for memories that were to be tatooed into the mind.
.
But it wasn't to be.
.
.
'Weird' Manchester United
Before the match, during
this week's Guardian's Football Weekly Podcast
, Sid Lowe made a very thoughtful description of United. 'They're weird', he called them... because they seemed to defy logic and analysis in many ways. He remarked something along the lines of:
'They bought Van Persie though they didn't really need him, but he's been brilliant... If you look at their team, they're not really very good, but they've been winning the league have been making the CL final these past few years'
I totally agree with the assessment. Rooney, Van Persie and Carrick aside (plus ageing CBs like Ferdinand and Vidic), everyone is pretty much in-and-out of the squad and in various positions:
.
-30-60 minutes for Giggs in almost every match as a Winger, CM, or AM
-Guys like Jonny Evans and Phil Jones are freely assigned as either RB, LB or a DM, Antonio Valencia plays as a RM, a defensive RM or even as a fullback. Tom Cleverly plays on the wing, as the '10' in a 4-2-3-1 or as a pivot in a 4-4-2.
-Ditto for Rooney / Welbeck who will play as a striker, AM, or winger
.
Every lineup - Rooney and Van Persie aside, looks mediocre on paper and is tactically very different from the last match or the next one. The only constant is that in almost every match, Ferguson is able to use each 'piece' to maximum effect. This is achieved through discipline, focus and mental fortitude which are trademarks of all Ferguson teams.
.
.
Conversations
Watching Champions League matches usually means doing so in a dark living room at 3:45 am. Last night however, I had company: having invited a Manchester United-supporting friend from work to come over. My football conversations with him previously had revealed to me that he knew very little beyond the Premier League and his beloved Manchester United. Being considerably younger than me, last night might probably have been the first time he had seen Real Madrid in a 90 minute match 'live' (not just highlights). We had previously talked about common threads between Spanish and English football including Ronaldo and Mourinho. On the former, he was one of the more enlightened (not myopic) fans who despite his lack of La Liga exposure has openly acknowledged that Ronaldo has become a monster far greater and more powerful than when he was at United. "
.
.
"Well, it was Fergie who put him on course to develop into the (positively) monstrous footballer that he is now. It was just Real Madrid who reaped the greatest benefits of Sir Alex's creation" was my reply. I also gave my friend a little 'warning' before the match: "You guys can win this but it depends on how you choose to play. If they put their ego aside and wait for Madrid rather than naively choose to attack us, Man U can win. But if your guys decide to pretend to be Barca, to stroke the ball around, try to keep possession and attack us - y'all are getting murdered." He was unconvinced and replied: "When we sit back and defend and let the other team have the ball like what you say - some of our guys tend to fall asleep and we end up conceding like that." he said.
.
When the match kicked off, it was clear he was unaware of Real Madrid's players beyond the usual suspects (ex-Premier League players Ronaldo, Alonso, Arbeloa + Sergio Ramos, he had superficial impressions from the WC and Euros for other players like Ozil, Khedira, Benzema, etc.). As Fabio Coentrao unleashed a Kaka-esque curling shot with his right boot that needed a finger tip save from De Gea, he jumped out of his seat: "Shiiiit!" he squealed. The blood drained from his face when I told him smilingly "that's our left back". He must have been thinking: If that's what their Left Back can do, what unspeakably horrible things can their actual attacking players do? The night / morning would end with my friend mesmerized by Angel Di Maria. I enjoyed those minutes watching this 'foreigner' to Spanish football come to grips with the arsenal at the disposal of my beloved Real Madrid.
.
.
Back and Forth Part 1
I never imagined myself having a gloating session towards a Man U fan when I invited him to catch the game - but I confess that I really enjoyed it while it lasted. Danny Welbeck wiped the cheeky grin off my face with his header after I warned my friend that "we usually score off the OTHER teams' corners and free kicks".
.
You didn't need a professional scout to realize where the chinks in Real Madrid's armor was - and Fergie duly acted with a simple 2-fold plan that was applied by the many teams who have beaten Real Madrid this season:
1.) Dead Balls
2.) Sit Deep, Deny Real Madrid's attackers to space run into and force to penetrate with slow build-up passing (a weakness)
.
Real Madrid's frustrating habit of conceding set piece goals reared its ugly head once again with Ramos dozing off on Welbeck. Replays show Varane in the same territory too. By conceding that first goal, Real Madrid not only debunked their danger of being able to score off their opponents' corners, they also intensified their own anxiety levels with regards to being vulnerable to set pieces. Every Man U dead ball situation for the rest of the game would go on to be a clear source of anxiety for Real Madrid.
.
Manchester United fielded a deceptive-looking team last night: with 3 of their 4 attackers being natural strikers (Van Persie, Rooney & Welbeck) with Kagawa playing the 'Ozil role'. Rooney and Welbeck however would be deployed as 'defensive wingers' to track Ronaldo and Di Maria respectively (and in the case of Ronaldo's wing, there was Coentrao as well). The midfield would also feature Phil Jones (a natural CB who plays RB every now and then) beside Carrick, also tasked to track Ronaldo in much the same manner he successfully neutralized Gareth Bale in the Premier League.
.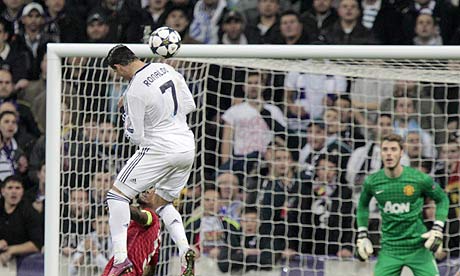 Michael Jordan would be proud of Cristiano's 'hangtime' in that header last night
Ronaldo however was not going to be stopped. He has ended all doubts of being a diver, he has ended all doubts of being a big game choker... and now it seems that he is also ending all discussions of being 'classifiable' in terms of his playing position. Ronaldo has broken the mold - he is neither striker, nor winger, nor trequartista, nor false 9 nor whatever. I won't elaborate further on how majestic his Michael Jordan-eque (hang time and all...) header was (Evra head was aligned to his crotch when he was mid air) - that's been done by every football writer on the planet already. What I will say though is that it was wonderful to watch Ronaldo change his tact in attacking United.
.
Make no mistake about it: Man U's tactical plan was executed to near perfection (a Ven Persie goal would have made it so) - after scoring the all-important away goal, it didn't matter that Madrid had equalized not much longer after it. After the goals, they did what every successful team against Real Madrid did: sit back, form 2 banks of 4 and force Madrid to carve you open without space to run to. Man U's attacks would be marked by caution as their players would shuffle very quickly back and forth from attack to defense once the ball was lost - to make properly sure that their shape was formed up neatly to receive a Madrid attack. Alonso would have no spaces to send the balls to for his 'runners' to latch onto.
.
Enter Ronaldo with sidekicks Di Maria and Ozil. Madrid's attacking 3 behind the striker (both of whom were direly and disappointingly quiet last night) all looked bright in their attempts to open Man U's defense. Everything however was started by Ronaldo. Dragging Phil Jones and a slew of defenders with him as he made his runs and switched positions from left flank, right flank, midfield and into the box, Ronaldo would leave a trail of unmarked spaces for Di Maria and Ozil to run to and pass to - creating chances to get around Man U's defenses (Ozil) and openings to take shots on goal (Di Maria). Ronaldo has now combined his characteristics as a speed merchant with a bag of tricks, as a dominating and powerful physical presence in the box and finally as an intelligent creator of space: ghosting into spaces for scoring chances or creating those spaces for his fellow teammates. Even as Man U's 2 bankssank deeper and deeper, closer to De Gea's goal (monster game from him btw), Real Madrid would continue creating danger from a combination of Ronaldo's sudden bursts of speed, or stealthy runs into space. In the end however, it was to send 1-1.
.
.
Back and Forth Part 2
I've said it before and I'll say it again - I consider it a good thing that the second leg of this tie is played away. I still hold the opinion that Mourinho's fear of conceding an away goal against Bayern cost us a place in the final last season. On March 5, Manchester United will fancy their chances of scoring and 'securing' the tie against us at Old Trafford - the stage will be set there for us to hit them on the counter in what can be a more open game. This time however, it will be us who will enjoy the fact that every goal we score is an away goal. it will be United who be placed in the conundrum that we were in last season against Bayern. The return leg promises more stretches of open play, end-to-end stuff or back-and-forth attacking between the 2 teams (whatever you wanna call it). Either way, it promises to be the sort of game whose chances Mou and his boys would fancy.
.
.
Another Conversation
My Liverpool-supporting wife (who wants to see United get eliminated really badly) asked me my thoughts about the match yesterday. "I'm confident we'll win the match tonight, but I have a deep fear that we might lose the tie" was my reply. With an even result that slightly favors United and removes every ounce of complacency from us, I can now feel that deep fear ebbing away.