Neapolitan Flavors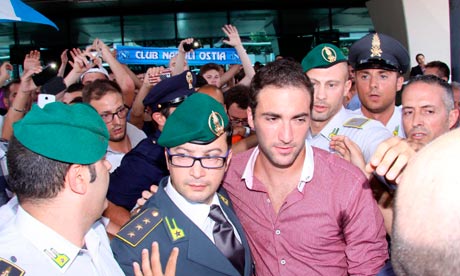 As a Madrid fan, I'm happy to see that Pipita will at least leave Real Madrid for a side whose fans will appreciate him. I'll always be thankful for all he's done for my beloved Real Madrid
Well, it now looks like Napoli have sewn up the deal to take Gonzalo 'Pipita' Higuain from Real Madrid. This will now take the Serie A runners-up Real Madrid signings up to 3 after signing Jose Callejon and Raul Albiol ... and will take their tally of Spanish signings to 5 once you count the loan acquisition of Pepe Reina and the signing of Rafa Benitez in.
.
A look at Rafa's 2013 Real Madrid summer spendings reveals something interesting:
1.) Gonzalo Higuain - Striker - 37m (+3m incentives)
2.) Jose Callejon - Winger / Forward - 10m
3.) Raul Albiol - Center Back - 12m
.
Let's further add in their other additions:
4.) Dries Mertens - Winger (PSV) - 9.7m
5.) Pablo Armero - Left Midfield (Udinese) - 4m
.
Altogether that's 72.7m spent on players. But when you factor in the sale of Edinson Cavani (64m) and Luca Cigarini (2.2m) - that's a net spend of only 6.5m. If that isn't great business on the transfer market, then I don't know what is. With none of Mila, Inter, Roma or Lazio making a big splash in the transfer market, Napoli may have pushed off from the rest of the pack in contending for the scudetto vs Juventus.
.
Make no mistake about it, Juve have made some serious upgrades this summer with the free agent acquisition of Fernando Llorente and the purchase of Carlos Tevez - but with a team tactically built around the 34-year old Andrea Pirlo, it is not unfathomable for men men in black-and-white to lose steam and get edged out by Rafa's new look Napoli.
.
.
North London Striker Crisis - Some CRAZY Ideas. (Absolutely NUTS!)
Stats of Talked-About Strikers in the Current Transfer Market for the past 3 seasons. Prices are in Euros.
(Note: Stats are based on participation in League, Cup and Continental Competitions)
Short a collapse for either Manchester club due to teething problems due to their new managers, I expect to see Chelsea and both Manchester clubs in a dogfight for this coming season's Premier League title and thus establish the 1,2,3 order in the standings. I also expect the 4th place in the Premier League to be contended by both North London clubs (Arsenal and Spurs) unless we see Liverpool's young side click and put together a magical league campaign.
.
The 2 bitter North London rivals are an interesting comparison in that Arsenal is managed by one of the EPL's last remaining long-term managers while Tottenham Hotspur is managed by a young up-and-coming manager with supposedly a boatload of fresh ideas (much like Arsenal's manger was some decades ago when he first turned up). It is interesting to note however that both clubs have the same hole in their roster to fill: a striker.
.
Both clubs are saddled with the fact that they have subpar-level strikers in their squads to match their top-4 aspirations. Both clubs are in need of a 20-25 goal/season striker... which is why I am dumbfounded by the fact that neither club looked at Mario Gomez earlier in the transfer window. Let's remember that Mario Gomez spent the 2012-13 season as the second-choice striker behind Mario Mandzukic. But if you look at the seasons before that where he was the first choice striker, the numbers are compelling: 41 and 39 goals playing for a team in a league that plays only 34 games! With those numbers and his physical characteristics which are perfectly suitable to the Premier League, I'm astounded as to why he was not even considered by both North London clubs. He eventually went to Fiorentina for 'only' 20m Euros.
.
Instead, Arsenal loses out on Higuain when their 30m Euro bid is outdone by Napoli's 37m offer. On the flip side, Spurs are playing 'chicken' in the transfer market (as they do annually) to land Roberto Soldado whose price tag is 30m after their failed attempt to play the same game with Aston Villa for Christian Benteke.
.
Crazy thought #1: Arsene Wenger (Arsenal) / Daniel Levy/AVB/Franco Baldini (Spurs) ought to pick up the phone and call long distance to Germany. They should call Borussia Dortmund and have a go for Robert Lewandowski - he'll be out of contract by the end of the coming season, which means he can be acquired for 20-25m... and Dortmund are DESPERATE for any club not named Bayern Munich to land him. They should call Lewandowski and ask him:
.
-Why not come and play for THE English Premier League?
-Why not come and play for a London-based club (Big Market Team) playing in the Champions League (disadvantage: Spurs)?
-Why would you wanna wait in Dortmund for one more season and then play for Bayern BEHIND Mario Mandzukic or some midfielder Pep will want to play 'false 9' experiments with? .... and instead you can come here and be THE MAN?
.
Crazy Thought #2 (More Applicable to Arsenal): Call PSG and bid for Ibrahimovic. Of course they're talking about playing him with Cavani because they're not as dumb as David Moyes to suggest that one of Ibra or Cavani would be a 'backup'. But in the age of the lone front man, it would be tactically complicated to play the 2 together. Tell Ibrahimovic you would like to give him a chance to make his last hurrah as a big time player in the only major European League he hasn't played in yet (Bundesliga aside) and tell him and Mino Raiola that yes, you are willing to pay his ridiculous wages.
.
At age 31, Ibrahimovic might be in the 20-25m GBP price range.
.
So what if he's 31? Didn't Manchester United pay 24m GBP for Robin Van Persie who scored the lights out for them to win the League title?
.
So what if he kicks his opponents and team mates? Arsenal are after all in desperate need of a player with Ibra's bad ass spunk who will kick opponents around just for fun and kick his team mates when they behave like wussies.
.
Arsenal need a badass - They don't come badder than the Zlatan. You just need to pay him.
.
.
The Suarez Saga
''Bite Me!" -Luis Suarez
... Instead Arsenal are trying to buy Luis Suarez and has made a bid for 40,000,001 GBP - an amount, which according to Liverpool, will need to be raised to 50m for Suarez's services - minus 6 matches to start the season. I want to make it clear that I am a HUGE fan of Suarez.... but I just don't think he's the player that Arsenal needs. He's not an out-and-out striker and for a player who has publicly stated his disgust for the 'British Press', it doesn't exactly make sense for him to move to one of the world's Paparazzi and Tabloid Capitals where a slip of the tongue pronouncing the 'N-word' can be broadcasted to the world in seconds.
.
They say that Real Madrid is his true objective. They say that Pipita's move to Napoli (and the 37m added to Madrid's coffers) paves the way for a move to my beloved Madrid. By I as a Madridista also do not feel the need for Suarez in our team (Don't get me wrong, I'll enjoy his presence in the team immensely if he does join): we already have an out-and-out striker to backup Benzema (Morata) and a creative, backup behind-the-lone-striker forward (Jese).
.
Suarez should instead have a talk with his bosses and come to an agreement: I'll stay and give my all, you install all the pieces around me to make us into a top 4 team. If we make it, I'll stay on. If we don't, then you let me go to any CL-participating team who is willing to fork out 'in excess of' 40m GBP for me.
.
Yup, that means 40,000,001 GBP will do the job.