Another match, another 3 points - that's the good part.
Another match, another sputtering performance - that's the bad part.
Another match, another round of Diego Lopez vs. Iker Casillas rhetoric - that's when it gets worse...
Another match, another round of Gareth Bale speculation - that's the worst.
.
My Saturday Night was about Heavy Metal, not Football. I managed to tick off one item from my bucket list by seeing Metallica live in Singapore. The football had to wait till Sunday and Last Night (today early morning actually)
My weekend was spaced out quite nicely I have to say. There was no football for me on Saturday night because I had the glorious opportunity to watch one of my musical heroes, Metallica, live here in Singapore (that's one item ticked off my bucket list!). On Sunday, I managed to enjoy the multi-view feature on my TV: allowing me to catch Cardiff-Man City and Spurs-Swansea simultaneously (great to see La Liga stars Negredo, Soldado, Navas, etc. dispel many English pundits' wrong impressions re: La Liga players). Granada-Real Madrid stretched my 'football weekend' all the way till today (Tuesday) early (3am) morning. As a result, I'm actually still hung over from what has been an astoundingly wonderful weekend (largely thanks to the music, and to a much lesser extent, the football).
.
.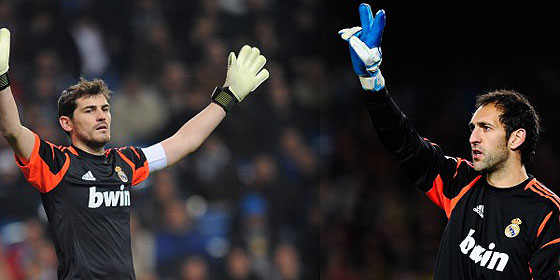 Casillas and Lopez: Both are Great Keepers. Why do we have to hate the other to love the other?
I've read on twitter that Ancelotti's statements to AS where he stated that "whoever he picked for this past vs. Granada would be he first choice keeper" was completely false. It is, in a way, reflective of the divisiveness of the matter. This was also reflected in the disgusting behavior of sections of the Bernabeu fans (that's right! I HAVE the cheek to criticize the fans in the stands!) to boo and whistle Diego Lopez after he was asked to warm up towards the end of the first half.
.
Let us all please get things straight here: BOTH Diego Lopez and Iker Casillas are products of the cantera. Iker joined the club at age 9 while Lopez was already 19 when he joined - and let us not please have the childish mindset that Iker is more Madridisita than Diego due to this 10 year advantage. Let's all admit it: we all love Iker not just because he's a ridiculously great goalkeeper, but also because of all the sentimentality that comes with him. We are frightened at the thought that the team's (and Spanish National team's) captain, whose career trajectory seemed certain to allow him to be a rare, world-class one-club man, would be disrupted. He won us (and the national team) countless matches and competitions: how could we, (how dare we) let him go by dropping him just like that?
.
To view the situation in that manner alone however, would not only be wrong in principle but also in terms of fairness. Does the sentimentality that comes with Iker, together with his enormous achievements make him exempt from a coach's decision on in-form and tactically suitable players? Is it right for the merits of a great goalkeeper like Diego Lopez to fly in the face of Iker's past accomplishments and reputation? My answer to these questions is flatly 'No.' I remember a time when outrage was expressed over David Villa's choice to wear what-used-to-be Raul's #7 Jersey, where he tersely replied "the #7 jersey, belongs to Spain, not to Raul."
.
In the same manner, just as Ancelotti said, that Real Madrid's #1 Goalkeeper Spot belongs to the club and not to Casillas or Lopez. If it is deemed by the coach that one is more suitable than the other to be the first choice 'keeper - then it is something we ought to accept without having to think / believe / insist that the other must leave the club (unless he wants to).
.
Iker Casillas will go down was one of the greatest goalkeepers of all time. He is, however not the sort of goalkeeper that certain coaches prefer when given a choice. Despite being probably the best shot stopper of all time, he does not dominate the penalty box (largely because he is a relatively undersized goalkeeper), prone to being questionable in dealing with crosses and doesn't have the ability to distribute as well from the back compared to the likes of Valdes and Reina. Lopez on the other hand is the sort of 'keeper that many coaches like: he has a domineering presence in the box and more confident in dealing with high balls and crosses sent to him (despite being a lesser shot stopper). It is not a coincidence that apart from Jose Mourinho and Fabio Capello, he is also fancied by Carlo Ancelotti.
.
Personally, I feel that when fit and in form, I prefer Casillas: what he lacks in certain aspects as a goalkeeper is compensated by what american sports fans refer to as 'intangibles' which he has in spades. I've also NEVER seen Iker choke on the big occasion and is the spiritual leader of the team, which is very important. I presume that Diego Lopez joined us thinking of himself as a backup to Iker following his unsuccessful spell at Sevilla. We must all admit however that the man hasn't put a foot wrong just yet and deserves the opportunities he has been getting to play. If Ancelotti wants Lopez to play, let us all support the decision and the player while it is proving to have merit... and do so without necessarily wanting Iker out.
.
.
Average Positions (c/o whoscored.com): Ozil (10) played as a '10' with Isco (23) playing slightly ahead of Modric (19). It wasn't a 'Double Pivot' but more of a '1-1/2 Pivot'
The heir-to-Alonso saga has been going on for quite some time now. Sahin, Modric, Illaramendi and Casemiro have all been brought in as part of the search for Alonso's heir. It's a fitting subject of conversation considering the fact that Alonso got injured again recently (fractured Metatarsal) and will be out for 3 months. Having played all his matches without Alonso and gearing towards a more possession-based style of play, Ancelotti is showing the way that 'replacing Alonso' isn't just about finding another player to be a like-for-like replacement, but altering the system a bit too. During preseason, we all saw that the more possession-based style of play, which relied more on constant short-range passing exchanges, suited Modric very well (let's all remember that when he was Chelsea manager, Ancelotti made Modric a primary transfer target).
.
Last night, with no Alonso, Illaramendi and Khedira due to injury, Ancelotti surprised us all with his selection of Isco to partner Modric in the pivot. This allowed Ozil to play in his favored '10' position and brought on Di Maria to play his familiar right-sided role. The outcome during the first half was great. Di Maria, despite playing as an inverted winger gave a nice wide presence that opened the pitch up more than when Ozil plays in that spot. Playing like that consistently, there is no reason to itch for upgrading Di Maria. Modric kept possession nicely enough and did very well in his ball distribution. Isco on the other hand, played a similar role in motoring back and forth between the middle of the pitch and the final third. With width and possession, Real Madrid played beautifully in the first half - instigating plenty of 1-2 exchanges to create chances but unfortunately only scoring one goal.
.
.
Another Tired Tale of Two Halves
Yup. This looked like a Penalty to Me.
What the hell happened during the second half? I probably need to watch the game again a few times to fully grasp how a match that started with so much promise for us, turned stale so quickly.
Was it fatigue?
Was it Granada realizing how porous our midfield was with no real midfield ball winners on the pitch?
Was it Ronaldo trying too hard to score a goal?
Was it Granada attacking with urgency and Madrid unable to coherently hit back on the counter without an accurate long range passer like Alonso?
.
It's another tired tale of 2 halves when Madrid play with promise in one half and completely fall apart in another (almost dropping points over a legitimate penalty claim by Buonanotte on Casemiro). We can only be thankful that Pepe and Ramos both player relatively well last night along with lighting rod talking-point Diego Lopez.
.
Thinking about it with a bit more perspective, it's important to note that it is at least positive to come out with a win over Granada last night. It was in this stadium after all, where we suffered our first away loss that allowed the team to gather momentum in its downward spiral for the La Liga campaign. Last week, we won despite playing bad for an entire match at home. Last night, we won playing bad for only half a match. Will next week's match against Athletic Bilbao be the match when our team can finally put together 2 decent halves of football to play an impressive match together as a team?
.
Ancelotti will need to sort Ozil out to make that happen.
.
.
Yet Another Gareth Bale Fairytale
The Cover Story of the Sports Page Singapore's 'Today' Newspaper. I'm not buying it. Not one bit.
The weekend witnessed 'explosive' news that Tottenham, supposedly upset to see Real Madrid erect a temporary stage at the Bernabeu for Gareth Bale's presentation, were now entertaining bids from another club for Gareth Bale.
.
Ha.
.
Tell you what: Name me one club who can spend 100m on one player, can pay him 10m Euros after taxes annually, whom Gareth Bale wants to join. If you can do that, and convince me, I'll send you a Real Madrid jersey. If Bale actually opts to leave Tottenham this summer and joins that club instead of Madrid, I'll but you an expensive steak dinner (you can order fish if you don't eat beef or order a salad if you're vegetarian).
.
That 'another club' wants to join the race for Bale is one big pile of utter horse shit. I have a few theories about this:
1.) Spurs / Daniel Levy are upset at seeing Madrid 'presume' that the signing is done after seeing Bale shirts being sold in the RM online store and the construction work in the Bernabeu for the Welshman's presentation.
2.) Levy is getting greedy and is looking to milk more money out of the deal.
3.) After missing out on Willian, Spurs want to lock in another player (rumors of Roma's Lamela or even Chelsea's Mata), before making the deal official and having to deal with a club who knows they have 100m in the pocket.
.
If it's any of the first 2 reasons, then I pretty, pretty please Florentino: call their bluff, walk away and only come back with a lowball bid. This is a move that is not in good faith. Calling Levy's bluff and walking away would mean that Spurs will need to swallow their current net transfer spend of 60+m GBP, something that'll hurt their pockets considerably and give us leverage to bring the price down on this deal that reeks of madness.
.
I'd like to end this subject matter with one suggestion to the people who set the schedules for the European football calendar: set the transfer deadline day BEFORE the official league matches begin for the clubs. When the season starts, we all just want to see football action on the pitch and have had enough of all these Stale Sagas and Tired Tales.