Carlo Ancelotti Raves About Being Given his Best Ever Squad
I have to say that I am pleasantly surprised by the items coming out in the sports gossip columns regarding Gareth Bale these days - both from the Spanish and English Press.
.
.
From where I'm sitting, I can gather 2 possible theories, both of which manifest positive vibes within me.
.
.
THEORY #1: Common Sense
Whether we play our familiar 4-2-3-1, Ancelotti's 'classic' 4-3-2-1 / 4-3-3 or the asymmetrical 4-4-2/ 4-2-2-2, one thing is pretty clear: the team are not in need of additional players. There is no need for additional Superstars, no need for more role players and no further need for young players. The squad is stocked very well in every 'department' to allow the team to play any of the abovementioned tactical systems in consideration. We are 2-3 top quality players-deep in every position. Ancelotti knows this, and we Madridistas ought to know it too after our Italian Manager showcased it to us and to the world over several games during the pre-season.
.
There is in fact merit to the argument that the addition of Bale to the squad can end up unsettling it. With Di Maria has clearly manifesting his desire to stay and Kaka angling for a career revival under his former Milan-mentor, we will end up being 3-4 men deep in the 3 attacking positions behind the central striker. This will likely result in demoralizing roles for Jese and Morata (remember Soldado under Schuster) as well as diminished roles for Ozil and Isco who do not deserve to be marginalized.

.
So simply put, are these news items floating around to start the process of psychologically conditioning Madridisimo and the world at large, that Real Madrid are backing away from this pursuit of Gareth Bale? Are they being put out there for the club to get a feel of how the fan base would react if they decide to abandon the pursuit of Bale this summer? I remember a very similar 'exercise' during Florentino's return to the presidency: stories came out calling Ancelotti the frontrunner for Real Madrid's coaching job, only for unfavorable fan reaction to push Florentino Perez to heed Valdano's advice to hire Pellegrini. Is this all related to AS' recent survey of their readers on what they thought Gareth Bale's price ought to be? (an overwhelming majority cited 60-70m)
.
All of this sparkles of common sense: the realization of Bale as a non-necessity, the ridiculousness of his price and that the squad is more than good enough to face the challenges for the coming season without him.
.
.
THEORY #2: High Intelligence
Florentino did not become owner / chairman (?) of the world's 6th largest Construction Company because he frivolously spends money. As hard as it may be to believe, Florentino Perez isn't 'loose' with the purse strings. Let us not be deceived by his 'The Most Expensive Players are the Cheapest Ones' signing policy:
.
-During Jose Angel Sanchez's negotiations for Becks, he famously answered 'no' over Man U's demand for 25m after Sanchez reported to him re: the Englisman's price excitedly know it was a 'steal'. (not sure if I read it
here
or
here
).
.
-He's conducted fire sales for players not deemed to be a galactico who were receiving high wages (Conceciao, Makelele, the refusal to sign Patrick Viera over salary demands, the Dutch contingent in 2009, etc.).
.
-Cristiano Ronaldo was not really in his plans for his 2009 return to the presidency. He was 'forced' into the 96m Euro / 80m GBP purchase of the Portuguese winger thanks to a pre-contract signed with ex-president Ramon Calderon, which carried a penalty for either side who broke the agreement. It was reported that Florentino felt that if he was the one negotiating with Man U, that he'd have been able to get Cristiano for much less than the 96m agreed upon with Man U.
.
.
Dealing with Daniel Levy
Also, a lot of discussion on the Bale topic amongst Madridistas have centered on our club's situation. Perhaps we ought to have a look at the situation of the club (Tottenham) that we are dealing with. As of this writing, Spurs have spent 68.8m Euros on the following players:
.
-Roberto Soldado (30m from Valencia)
-Etienne Capoue (11m from Toulouse)
-Nacer Chadli (8.1m from Twente)
-Paulinho (19.7m from Corinthians)
.
And in return, Spurs have thus far 'earned' 25.7m Euros in player sales:
-Tom Huddlestone (5.8m to Hull)
-Clint Dempsey (6.8m to Seattle)
-Steven Caulker (9.1 to Cardiff)
-Scott Parker (4m to QPR)
.
That's a net transfer spend of 43.1m so far.
.
.
It's interesting to note that last season on the other hand Spurs had a 'profit' of 6.6m GBP from the transfer market. They spent 60m (Sigurdsson, Vertonghen, Adebayor, Fryers, Dembele, Lloris, Holtby, Dempsey) and 'earned' 66.5m (Button, Corluka, Bassong, Krancjar, Pienaaar, Modric, Van Der Vaart, Dos Santos). This activates another valid question: did the usually-cheapskate Spurs spend 43m Euros this summer while counting on a windfall from Bale?
.
Perez also understands one thing about his Spurs counterpart (Daniel Levy): That the Spurs chairman would suffer a great disadvantage in the transfer market if he dealt with clubs knowing that he had a big stash of money in his pocket from the Gareth Bale deal. He will be forced by other clubs to buy high and sell low if it was publicly known that he had a bagful of money from the Bale deal. Thus, it is important for Spurs to complete all their shopping transactions before selling Bale. This gives Florentino the tiny advantage of knowing Spurs' net transfer spend coming into the negotiations. Florentino thus has the capability to negotiate with Levy for Bale's price in context to Spurs' net transfer spend.
.
Real Madrid's public cooling on Bale due to Ancelotti and the fan base's sentiments gives Uncle Flo an advantage too:
"My coach says he doesn't need Bale and my fanbase is only willing for me to go up to 70m Euros - there's no sense for me to go to 90-100m anymore."
.
By walking away from the negotiating table over a 100m demand for Bale, Florentino asks Daniel Levy a few important questions:
1.) Are you ready to swallow a net transfer spend of minus 43m Euros?
2.) What will you do if a pissed off Gareth Bale decides to sulk for an entire season? (scenario: he sulks his way to a paltry 10 goals this coming season and sees his value drop)
3.) Are you prepared to face the consequences of spending 43m Euros, play the 13-14 season with a sulking Bale and fail to qualify for the CL, and miss out on the money that qualification brings?
.
Florentino has gained some leverage here. I hope he uses it wisely.
.
.
Manchester United Joins the Party?
I have no idea whose idea it was to bring Manchester United into the discussion.
-Was it the English Press?
-Was it Manchester United themselves?
-Was it Tottenham?
-Was it Real Madrid?
.
If it was the English Media - then we can chalk it up to the need to sell papers.
If it was Man U - then they're just being stupid to pursue a player valued at 100m in a market where 64m is paid for Cavani and they make an opening bid of 25m for Cesc Fabregas while competing with the richest club in the world. On money terms, there is no way a Manchester United owned by the Glazers can compete with a Florentino Perez run Real Madrid in bidding for a player.
.
If it was Spurs - then it was pretty stupid. If it was Real Madrid - it was pretty clever. There is absolutely no way Real Madrid will be beaten by Manchester United in a bidding contest.
.
If Manchester United want to be irrational and spend 100m for Bale. Real Madrid can/should happily let it happen and allow Spurs to send their star player to a club that will keep them off the top 4 once again.
.
If Manchester United behave rationally (as you'd expect them to), there is no way they can make a 'rational bid' which Real Madrid cannot easily match or beat. If Man U bids for Bale's 'correct' value of 30-40m, Florentino can smile, yawn and say 'Ok, we're in for 50'.
.
.
Common Sense, High Intelligence or Stupidity?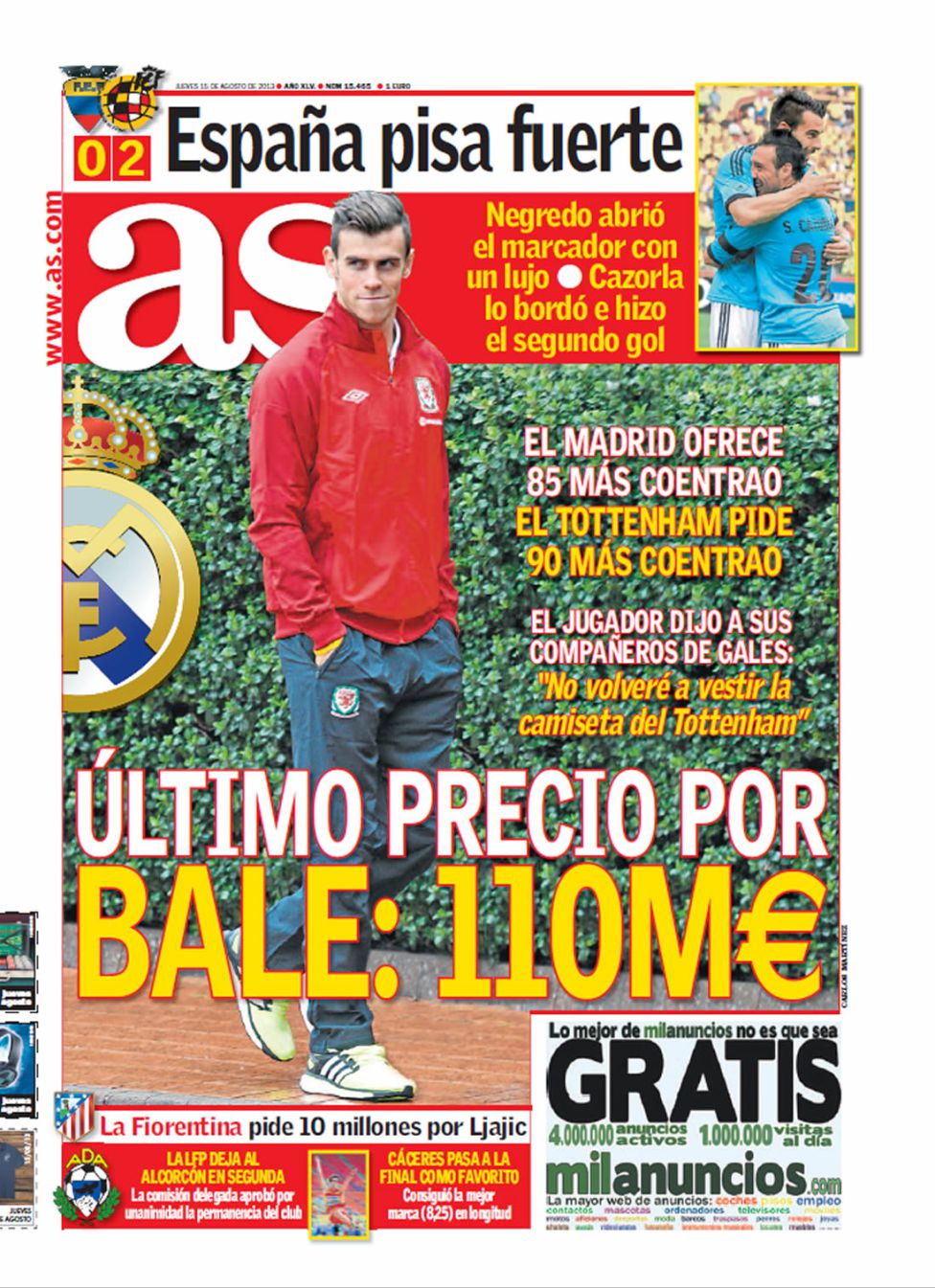 The Bale Discussions in the media are making a comeback again
The preseason has worked out wonderfully for Real Madrid. With the current squad sans Bale, Ancelotti has given us much cause for optimism that success is on the horizon with what we currently have.
.
Gareth Bale for me is an amazing player, a star player worthy of 'galactico status'. Prior to Isco's arrival, he was a player whom I yearned to see in a Madrid shirt. Today however with the squad as it is, I am now of the opinion that there is absolutely NO NEED for him in the squad. Make no mistake about it: I will still celebrate his arrival if he comes. I will rub my hands in glee and excitement at the thought of seeing him play with Ronaldo, Ozil and Isco.
.
Today however: it's pretty clear to me that the club has the power to either exercise Common Sense and abandon this superfluous pursuit for Gareth Bale or apply High Intelligence to bring his pricetag down to a more sensible level.
.
Far more than Gareth Bale, I want that my beloved Real Madrid chooses not to be stupid. There are more than a 100,000,000 better ways to spend 100m.