My last thoughts before drifting to sleep have always ended in prayer – thanking God for the day that was and for the family that I have. I also make my last wishes for the day: prayers for loved ones, my challenges at work, etc. Last night, with still several hours to go in the transfer window, before drifting to sleep: I, like many sports fans, unfairly asked for divine intervention on sporting matters: I asked God to keep Mesut Ozil at Real Madrid.
When I woke up in the morning, Arsenal had signed Mesut Ozil for 50m. My heart sank. I wanted Ozil to stay more than I wanted Bale to arrive. I can only imagine what an Arsenal fan's heart was like: floating on an incredible high (it was to be confirmed when I saw the scenes of jubilation amongst the Arsenal fans outside the Emirates Stadium later on). I suppose God decided to heed an Arsenal fan's prayers last night… and that he didn't want Real Madrid fans' football fantasies to be overfed.
Now that the transfer window has slammed shut and we can now finally look forward to a firmed-up squad with no more speculations on signings, I suppose it's a good time to assess the comings-and-goings to our squad that took place over the last few months as we look forward to the young season.
.
.
.
The Napoli Boys: Higuain (37m Euros to Napoli) Albiol (12m to Napoli) + Callejon (10m to Napoli)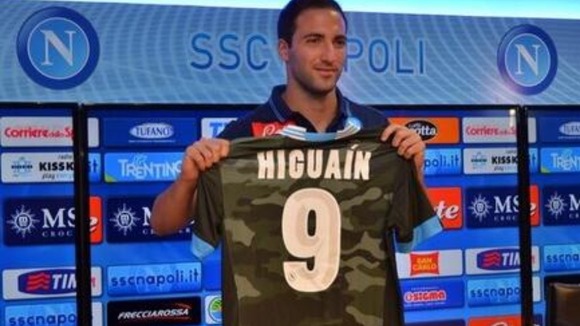 Pipita holds up his '9' Napoli Shirt. The Army Camouflage motif is perfect for him too: Pipita is a fighter. I will miss having him at Real Madrid
In their 2-4 victory vs. Chievo Verona last weekend, Napoli's XI lineup was:
.
Reina
Maggio-Albiol-Britos-Zuniga
Inler-Behrami
Callejon-Hamsik-Insigne
Higuain
.
Rafa Benitez's team has 3 Spaniards and 3 ex-Real Madrid players in their starting XI. Napoli to a certain extent, set the template that Tottenham did: they spent the money they earned from the sale of their superstar player (Cavani) to strengthen multiple positions in their squad. If I attempted to be a neutral, I'd say that they overpaid marginally for Higuain and overpaid considerably for Callejon and Albiol. For the 3 ex-Madrid players however, I'm very glad that they've found a place where they would not just be undisputed starters, but also a place where they have the opportunity to contend for silverware. Napoli faces a tall task in dethroning the mighty Juventus in Italy but their team is more than capable of putting a worrisome challenge for Juve supporters. In the Champions League, I will admit that I would dread seeing Madrid face a Rafa Benitez-coached team in the knockout rounds - maybe he's the man to break open the ketchup bottle for Pipita in Europe.
.
Gonzalo Higuain was one of my favorite Real Madrid players. He's not as talented as many of our previous strikers (R9, RVN, Owen, Benzema), but what he lacked in talent, he more-than-compensated for in heart and intangibles. Intangibles - that's probably a quality that American Sports fans value a lot (which tend to be valued less outside) more than sports fans from other cultures. It was a quality that Pipita had in spades. It was the reason why from the age of 19 till he left us, he never stopped fighting for his place, he never sulked and never flinched in the face of criticism, opposition or boardroom and dressing room politics both at Real Madrid and with his National Team. Pipita has stared down challenges to his place in the team from Raul, Van Nistelrooy (his mentor), Huntelaar (remember him?) and Benzema at Madrid. For Argentina, he contends with Aguero and Tevez for a place in the front line and still wins out most of the time. With Benzema the only proven (well, semi-proven) striker we have, I question the wisdom of letting Higuain leave. Other nit-picky Real Madrid fans can disagree with me and criticize him all they want, but my opinion is: it was a mistake to let him go.
.
The 2 Spaniards on the other hand, have left largely to accommodate the Real Madrid's swelling ranks of young superstars-to-be. Backup CBs usually consist of reliable veterans (like Albiol) or promising youngsters (like Varane) - but when these promising youngsters' talents explode for the world to see, they are best put to the fore. Varane will now contend with Pepe as the first-choice partner of Ramos while Nacho has been deservedly promoted as the 4th-choice CB. It was clearly time for Albiol to move on. He had one pretty good season paired up with Pepe at CB under Pellegrini. I really hope that his performances as a starter for Napoli can win him a place in the Spanish National Team for the World Cup.
.
Callejon played with the full understanding that he was a squad player at best for Real Madrid. He embraced this role wholheartedly out of sheer love for Madrid... And we all loved him for it in equal measure.
Callejon is in a similar situation to Albiol - he was never going to be good enough to be a starter for Madrid. He was always going to be a squad player. He himself knew this and embraced his 'supersub' role in Mourinho's team. It was thus inevitable that he would lose his place in the team if Madrid decided to a.) further upgrade from Di Maria or b.) had a bright young canterano come up to take his place in the team as an understudy. Unfortunately for him, both scenarios came to be with the arrival of Gareth Bale and the emergence of Jese. Callejon seems to have found a home in Rafa Benitez's Napoli, in the role that Dirk Kuyt played for Rafa's Liverpool - a utility wingman, with tremendous workrate capable of chipping in with goals from the right flank. The big difference is that Callejon has 10x more pace than Kuyt. I fully expect him to be a success in Rafa's team.
Kaka (Free to Milan) - The Galactico that Disintegrated
I got myself a Kaka Jersey, (not Cristiano's) when Uncle Flo's Galactico project version 2.0 started. No fan is more disappointed at his failure at Real Madrid than me.
I have openly admitted many times that at the beginning of Florentino's second galactico project, that I was more excited about the arrival of Kaka than Cristiano Ronaldo. The memory of Kaka single-handedly destroying Ronaldo's Manchester United in the CL semis is still indelibly seared into my memory. No fan is more disappointed by Kaka's failure at Madrid than me.
.
The politically-correct thing to do was to curse luck and injuries. I believe though that a huge part of his failures was also his own doing. His multiple absences during his first season with us were largely masked by the outstanding performances of Rafa Van De Vaart under Pellegrini during the 2009-2010 season. It was the season before the World Cup and it was clear to me that he prioritized playing in the world cup over not just his club, but also over his own health and his career. The decision to wait until after Brazil's ill-fated World Cup campaign to have knee surgery was the worst decision of his career. Brazil self-destructed in the World Cup and post-tournament surgery and recovery ultimately sabotaged his club career for the 2010-2011 season for Mourinho's Madrid - the season that saw him permanently lose his place as the team's first-choice #10 to a young German genius named Mesut Ozil.
.
Many attributed Kaka's lack of success in his first year at Madrid due to the incompatibility of his game to Pellegrini's possession-based system. Many hypothesized that Kaka's success was down to Milan's counter-attacking game that allowed him to use his ability to accelerate past back-pedalling defenses which was not applicable to Madrid's style of play at the time. If this was true, then surely the arrival of Mourinho and his counter-attacking 'Formula 1 football' would have been perfect for the Brazilian... if only he had decided to have his surgery and recover in time to be part of Mourinho's preseason. In the end, it didn't matter: post-surgery Kaka was still a good player but no longer with his 'jets' (his famed ability to accelerate) and without the passing vision to feed the insatiable Ronaldo the way Ozil did.
.
He had his chances to leave many times and still decided to stick it out at Madrid knowing full well that he would never become first choice again - reportedly because of his refusal to take a pay cut. I will presume that he has finally decided to agree to leave and accept less than half his current pay to give himself a chance to play for Brazil.
.
I don't accept the assertion that what happened to Kaka was a straightforward club-vs.-country dilemma where he just simply placed country ahead of club in his list of priorities (which will lead to some people admiring him). His decision to prioritize the 2010 World Cup didn't just jeopardize his club, but his entire career as well. By sorting out his injuries at the right time and timing his recovery in conjunction with the club's preseason, etc., a recovered, fully-match fit Kaka might well have kept Ozil out of Madrid's starting XI during Mourinho's debut season with us. A recovered and fully match-fit Kaka today might well have resulted in him being the National Team Captain and key player for his country when they host the World Cup next year. It is ironic that his mis-informed decision-making to prioritize club over country earlier in his career might possibly be the reason for his decline and now he is in a state where he is making a hail-Mary career move just to get a outside chance of becoming a mere squad player for Brazil in the coming World Cup.
.
As for his 'treatment' of Real Madrid, I find it hypocritical and shameless of him to make decisions re: his career that placed Madrid as second fiddle in his list of career priorities... only for him to refuse to leave because he enjoyed way too much the salary that he received from the club.
.
I'll say it now: Kaka was a galactic failure at Real Madrid. And I'll say this too: a big part of why he failed was also down to him. I really hope that after he curses his luck (re: injuries) for his career failures that he too can find part of that reason when he looks in the mirror.
.
An AC Milan-supporting colleague of mine who was celebrating Kaka's return told me this morning: "Thank You for letting us have him back for free!" I replied: "No. Thank YOU for getting him off our books. Now we can finally pay Ronaldo."
.
.
Ozil - The Wizard who vanished into thin air on a Transfer Deadline night in Madrid. (50m to Arsenal)
'Fly Emirates' - wrong colored shirt, wrong badge! Ozil belongs in a Real Madrid shirt.
Nightmares are supposed to haunt you in your sleep. Today, the nightmares haunted me while I was awake. It's not a passing nightmare either - it's become a reality. Mesut Ozil is no longer a Real Madrid player. This is a ridiculous outrage. I realize I am not alone in feeling this way about this subject matter.
An AS survey apparently has revealed that 2/3 Real Madrid fans disapprove of the sale of Ozil
(Cries of 'Ozil not for Sale' even rang out at the Bernabeu during Bale's presentation which Florentino Perez shushed). Sergio Ramos, who has an ongoing bromance affair with the German has also openly declared his opinion that Ozil ought to be one of the last to be let go of in the current squad. Even more worrying is that Cristiano Ronaldo, our star player whom we are trying to sign to a contract extension
is supposedly upset at Ozil's departure
. Why wouldn't he? Ozil has after all assisted a huge number of his goals.
.
Florentino Perez, in wanting to 'please' Madridisimo has made a huge mistake. I think he has failed to understand that Madrid fans are NOT going to be upset if Bale didn't come. but that they would be (and currently ARE) upset if Ozil were to go.
.
Isco is a wonderful player, he is younger, more willing to take on defensive responsibility and is Spanish... but his arrival need not mean that there was no longer any room for Ozil even with Bale's arrival. I am deeply disappointed that neither Ancelotti with his tactics nor did the upper management of the club has done enough to keep Ozil at ease amidst the arrival of Isco and Bale. I feel deeply betrayed by Florentino Perez for allowing (or perhaps even being the mastermind) for this to happen.
.
I also reject the criticism of Ozil as if to blame him that he didn't have the stomach to fight for his place in the team. Shunted to the right wing (not his natural position) during preseason and at the beginning of this season, Ozil has not looked comfortable and has been logically outdone by Di Maria in a role that fits the Argentine perfectly. How was he supposed to successfully convert himself from being the best #10 in the world into a world-class winger at the drop of a hat?
Arsenal who have been in search of another striker all summer long, have managed to land the jackpot of the summer transfer window. The oft-injured Wilshere is NOT a #10 (he ought to give up his jersey number to Ozil!) while Aaron Ramsey has started the season thriving as a pivot. Overnight, Arsenal with Ozil have become a frightening team:
Szczesny
Sagna-Mertesacker-Koscielny-Gibbs
Wilshere-Ramsey
Walcott-Ozil-Cazorla
Giroud
Arteta and Flamini can interchange with Wilshere and Ramsey in the pivot positions, Rosicky can interchange with Cazorla and Ozil as '10s' while Oxlade-Chamberlain is an alternative winger, while upfront, Wenger might be interested in trying Podolski out as an alternative striker. It will be a system built around the talents of Ozil - a sporting situation that he has earned and deserves.
.
In my sorry attempt to try to see the bright side in all this, it actually seems like Ozil's sale to Arsenal is our way of screwing Tottenham and Daniel Levy back for screwing our club out of 100m Euros for a player that costs less than half that amount. Taking Bale's departure to Madrid into consideration, I actually fancied Spurs to overtake Arsenal in the race for Top 4. Ozil, re-dresses the balance of power between the 2 and just might give the gunners an 'equalizing factor'.
.
Making up for 50% of Bale's ridiculous transfer fee, Ozil is also the most expensive sale of a Real Madrid player in history. Assessing the deal without emotions, 50m for the world's best #10 is a fair price and is a big step forward compared to the scandalously cheap prices by which we let the likes of Wesley Sneijder (15m), Rafa Van Der Vaart (11m) and Arjen Robben (25m) leave.
.
In trying to see things without the strong emotional attachment I have towards him as a huge Real Madrid fan, his departure can be chalked up to 2 simple reasons: Firstly, to balance the books in lieu of the Gareth Bale purchase (his sale singlehandedly wipes off half of the money 'lost' on Bale's purchase). Secondly, Ancelotti's new 4-3-3 system (that 'converts' into a sort of 4-4-2) places more value on high-defensive-workrate playmakers (Isco and Modric) or wing players (Di Maria, Bale) and not what has become a 'classic #10' (like Ozil) playing at the heart of a 4-2-3-1, protected by 2 holding pivots behind him and surrounded by a series of mobile attackers in front of him to feed (will discuss this in another post).
.
.
'Farewell Prayers'
It's interesting to note that the players who have left us this past transfer window have all left most of us feeling a sense of loss. None of the players who have left us has made us feel like celebrating (Faubert) or crying 'Good Riddance!' in indignation (Robinho). That many of us feel bad about these players leaving is a reflection of what a truly great team we've had over the past 3-4 seasons. They are all players who have won our affection for their dedication (Callejon, Albiol), fighting spirit (Higuain), humanity (Kaka) and genius (Ozil). I suppose now is a time to wish them the best of luck in their new teams... and for those of us who wish to do more - support their teams. I for one, have now become a Napoli fan and have plans to renew my bonds with the Arsenal faithful.
.
After the tears have dried up and the numbness from the shock and the pain from the sadness has subsided, I suppose now is as good as any time, to have an international break to balm over the wounds from the hurt of losing such great players in our team. When this process is all done, the time will come again for us to renew our faith in Real Madrid and to begin pestering God with our ridiculous prayers for the glory of Real Madrid once again.