An Infographic on Bale care of Sporting Index
Selling them and Spending for them
After 'mourning' the loss of the many great players who have left our squad, during the winter transfer window, the time has now come for us to assess how the club has performed, assess the new arrivals to the team and speculate how the team can play with the personnel that we have onboard. It is important for me that we are able to perform this 'analytical exercise' without letting our emotions or our attachments to many of the players who have left cloud the thinking process.
This past summer transfer window, Real Madrid has spent 174m has been spent on player purchases:
-6m for Dani Carvajal, from Bayer Leverkusen (buyback option)
-6m for Carlos Casemiro, from Sao Paolo (post-loan option)
-30m for Isco, from Malaga
-32m for Illaramendi, from Real Sociedad
-100m for Gareth Bale, fromt Tottenham Hotspur


.


BUT, Real Madrid has also 'earned' 113.4m from Player Departures.


-37m Higuain to Napoli




-12m Albiol to Napoli




-10m Callejon to Napoli




-4.4m Negredo from the deal between Man City with Sevilla (sell-on clause)
That's a net transfer fee of 60.6m.
Comparisons with Other Clubs
I've often preached the virtue of having a sense of perspective in reacting to the goings-on in the club and a big part of being able to do that is to compare ourselves to other teams in Europe. So let's have a look at the business conducted by some of Europe's other big clubs (info taken from transfermarkt):
-AS Monaco: net transfer spend of 159.95m (In: Falcao, Moutinho, James Rodriguez, Kondogbia, Toulalan, Lopez, Martial, Mirin / Out: Toure, Medjani, Loan Fee for N'Dinga)
-PSG: net transfer spend of 84.4m (In: Cavani, Marquinhos, Digne / Out: Sakho, Gameiro)
-Napoli: net transfer spend of 16.2m (In: Zapata, Higuain, Albiol, Callejon, Rafael, Mertens, etc / Out: Cavani, Santana, Cigarini)
-Barcelona: net transfer spend of 42.9m (In: Neymar, Buyback of Bojan / Out: Thiago Alcantara, Villa, Fontas)
-Tottenham Hotspur: net transfer gain (profit!) of 5.15m (In: Lamela, Eriksen, Chiriches, Chadli, Paulinho, Capoue, Soldado / Out: Bale, Huddelstone, Parker, Dempsey, Caulker)
-Chelsea: net transfer spend of 60.85m (In: Willian, Atsu, Etoo, Schurrle and Van Ginkel / Out: Bruma, Loan Fees for Lukaku, Moses, Wallace, Romeu).
-Manchester City: net transfer spend 104.3m (In: Negredo, Navas, Jovetic, Fernandinho and Demichelis / Out: Tevez, Loan Fee for Sinclair).
Looking at the quality of players we have brought in and lost, I'd say that's pretty good business when we compare them to Europe's other big club big spenders. There area few interesting comparisons to be made with the teams above.
.
1.) Napoli and Spurs have both spent mostly the just the money earned from the sale of their superstars (Bale and Cavani) - Spurs have in fact made a profit - validating my point that Florentino should have at least faked leaving the negotiating table to let Spurs sweat over the fact that they had spend 100+ million already.
2.) Monaco is a a non-applicable comparision because they are building a team for the first time to compete to win a league title without any star players onboard.
3.) Barcelona have spent a handsome fee essentially to acquire a player that does not fill any critical area of need of the squad (CB)
4.) The 3 teams above that can be best compared to Real Madrid in terms of spending are: PSG, Chelsea and Manchester City - spending money on a series of players who are all likely to figure in the 'core' of the team (with this core being a pretty big squad owing to the fact that they wish to compete for multiple titles.).
.
It is with regards to item 4.) above where perspective comes in:
PSG have a net transfer spend of 84.4m and they have 3 who are starting XI material.
Manchester City have spent a whopping 104.4m on 4 who are starting XI material (Demichelis isn't).
Chelsea's net spend is similar to Real Madrid's with only Etoo and Willian looking like instant starting XI material (Schurrle is a borderline starter)
.
Real Madrid's 60.6m net spend consists of five players who are all starting XI material. They are also players who will areas of need which include depth at RB (Carvajal), and a possible medium-long term heir to Alonso (Illaramendi) to cap off a saga that has lasted 3 seasons. We've also signed the world's best young #10 (Isco) and the best player of the "Best" League in the world (Bale). There is no arguing that this is great value for a net spend of 60.6m.
.
.
Slotting Them In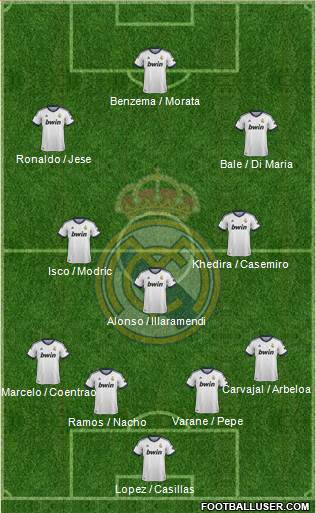 2013-2014's Real Madrid Squad in a 4-3-3
The most overlooked part about they way by which people have been looking at the team's transfer activity has been the formation / system of play by which Ancelotti wants the team to play.
.
He's done it before in Milan and he's doing it again at Madrid: a 4-3-3 which features a primary ball distributor at the center of the lineup (Pirlo / Alonso) flanked by a mobile playmaker with the legs and mentality to shuttle up and down (Seedorf / Isco) and a utility midfielder who can play simple passes and can tenaciously win the ball with tough tackling (Gattuso / Khedira).
.
He's also used an asymmetrical 4-4-2 as
we saw in his PSG team last season
. 2 Central Midfielders are surrounded by a wide midfielder (Lucas / Bale) on one side, while a player normally accustomed as a '10' is shunted wide and allowed to drift in at another wing (Pastore / Isco).
.
From the 3 matches that we've seen so far, Ancelotti to me appears to be using a system that shifts back-and-forth between these 2 systems using the same XI. It is in this regard where Madrid's system becomes very clear - where we can now easily see that we are 2 players deep for every position:
.
Goalkeeper: Lopez / Casillas - Shot Stopper vs. Tactical Goalkeeping
2 world-class goalkeepers who will continue to divide opinions among Madridistas. Casillas is the world's best shot stopper but Lopez, many coaches would say (which include Capello,) Mourinho and Ancelotti), is better 'tactical' goalkeeper (more presence in the box, better at crosses, better distribution). I honestly prefer Casillas, but see no wrong in the choice of making Lopez the #1 choice between the sticks.
.
Fullbacks: Arbeloa / Carvajal, Marcelo / Coentrao - Attacking vs. Defensive Fullbacks
With the retention of Coentrao and the arrival of Carvajal, Real Madrid are now 2-deep in both fullback positions with every player a top-class one. Madrid now finally have the tactical flexibility of having attacking and defensive fullbacks both on the right (attacking: Carvajal, defensive: Arbeloa) and the left (Attacking: Marcelo, defensive: Coentrao). It's interesting to realize as well that both right backs are Castilla graduates (Carvajal and Arbeloa) while both left backs are native speakers of Portuguese (Marcelo / Coentrao).
.
The Center of Defense
Madrid have 3 world-class center backs to mainly rotate for the 2 CB slots in the Madrid XI (Varane, Pepe and Ramos). With his calling to the senior national side, Nacho plays the role of being the team's aspirant CB.
.
Center Midfield
The 4-3-3 'rotates' clockwise to become an asymmetrical 4-4-2 with an attacking midfielder on one side (Isco / Modric) and a natural wide man on the other (Bale / Di Maria). Diagram is from a previous article (pre-arrival of Bale and exit of Ozil).
For the deep-lying central, ball-distributor 'Pirlo' role, we have 2 Basque, ex-Sociedad players in Alonso and Illaramendi. It's interesting to note that the 2 can do more than distribute: they're no slouches in doing defensive work too. We've also seen Modric (last match vs. Bilbao) play this role masterfully to the delight of the Bernabeu. Modric and Isco however are the players who are tasked with the 'Seedorf' role of pushing forward whilst still given defensive responsibilities. Isco in particular, has many times detached himself from the trivote to push forward to become an advanced playmaker. For those who are fond of comparisons, my opinion re: Isco is that he is not yet at the level of Ozil, but at age 20, there is no reason why he won't be able to reach or even surpass the level Ozil at age 24 is at in 2-3 years. Khedira and Casemiro on the other hand, are the team's water carriers, providing bite and blue-collar work for the team on the pitch.
.
The Front 3: Sheer Firepower
Yesterday's Marca cover. Everyone is waiting for Benzema to mess up... so that they can re-start drooling over Falcao or Suarez for the winter transfer window. Both players will not be cup-tied should they arrive on January.
Most pundits have identified Madrid's main area of need as being the '9' spot. Benzema had a mediocre season last year while Higuain has left. Some might be wondering where the goals will come from. I'm not one of them. When you have a player who scores 50 goals/season in your team (Ronaldo), I find it silly to wonder where the goals will come from... especially if your major summer signing was a guy who scored 34 goals last season in England (Bale). Benzema has no need for a Falcao or a Luis Suarez to remind him that he needs to buck up: he only needs to look at the bench to find Morata awaiting his chance to play. Morata is 3 good, goal-scoring performances away from swaying the Bernabeu to clamour for him to start over Benzema as the team's first choice #9. Our 100m man Bale won't have it easier either: he will need to show Ancelotti that he can work just as hard as Di Maria on defense while showcasing his more impressive attacking skills to nail down his place in the starting XI. As for Jese, he and Ronaldo will play on that left-sided role that 'shifts' to become a secondary striker's role when the team converts from 4-3-3 to 4-4-2.
.
.
I did not watch any international football this past weekend nor did I pay any attention to the needless drama from the aftermath of Ozil's departure. It doesn't matter to me if he felt that the club owed him more transparency or if the club was irked by his father / agent's continuing demand for a (well-deserved) pay rise. Nevermind, let's let it go.
.
Callejon, Albiol and Higuain will be wearing Napoli shirts from now on.
Ozil will be wearing an Arsenal shirt from now on.
There will always be reasons to be upset about that.
.
But frankly, I'm more interested about the fact that Casillas, Varane, Pepe, Ramos, Coentrao, Khedira, Ronaldo, Benzema, Bale, Marcelo, Alonso, Carvajal, Casemiro, Arbeloa, Nacho, Modric, Jese, Morata, Di Maria, Isco, Illaramendi and Lopez are all wearing Real Madrid shirts.
.
It's Tuesday again and I'm no longer in the mood to sulk about what happened 7 days ago.
What I am in the mood for instead is to look forward to what will happen in 4 days: to see my beloved Real Madrid take the pitch once again.