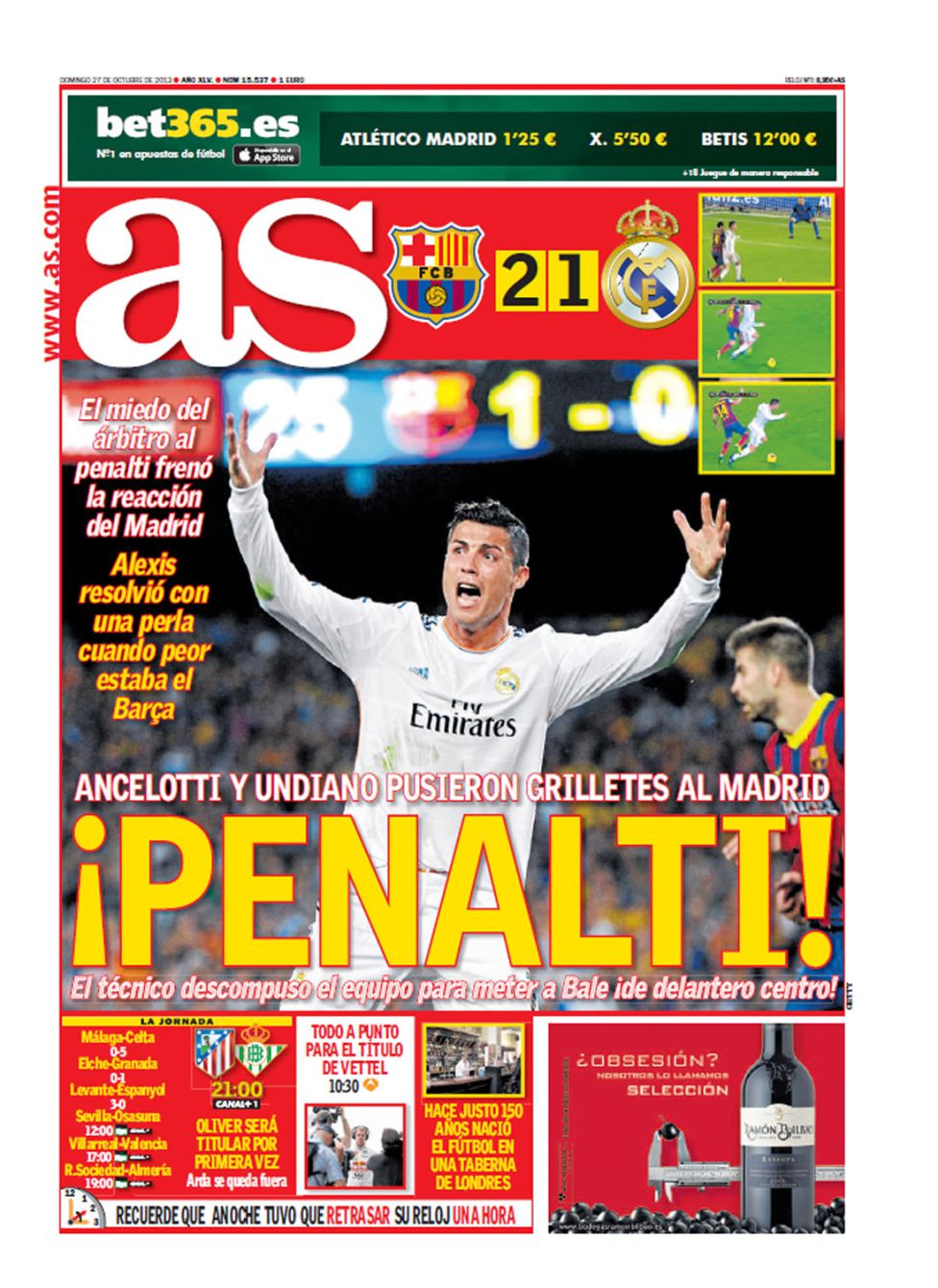 Everybody's wondering 'WHAT IF a penalty was given and it became 1-1': Honestly, we might have won. But there was no penalty and we didn't win. It wasn't all THAT bad though.
Yes, it was a penalty (Mascherano on Ronaldo). But let's look back at the game and examine it with a clear conscience: on the balance of what happened out there on the pitch, 2-1 to Barcelona was a fair result (by a cinch). After the Juventus game, I wrote that for Madrid to win the game, they needed to put on a game with no dark spots and only the bright spots. That did not happen unfortunately: there was quite a number of promising signs that we saw out there last Saturday. Signs that indicate promise for Madrid and signs that likewise show that Barca are absolutely not invincible or even difficult to beat.
.
Let's go through the storyline and pick it apart.
.
.
The WRONG false 9: Martino outwits Ancelotti
The funny thing about playing with a 4-3-3 with a single holder is that despite the perception that it is the more 'attacking' formation (compared to a 4-2-3-1), it can actually be used as a more effective defensive tool against Barca's rendition of the 4-3-3 (who play it with a false 9). Ancelotti's post-match comments these past few days have revealed his 'marking system': he normally asks our center forward to mark the opponent's deep-lying ball distributor (e.g. he mentioned that he tasked Benzema to mark Pirlo vs. Juve and Bale to mark Busquets last Saturday). Against Juve, who neither played with a '10' nor a false '9',
our holder (Illaramendi) was criticized as havingan unclear role
– this didn't bother me as it meant that he would be free (which Illara took advantage of with his 95% passing completion rate midweek). Against Barca on the other hand, who plays with a false 9, the team's sole holder this time would have a man to mark.
.
It was on this premise that Carletto decided to start the match with Sergio Ramos as the team's holder (with Illaramendi on the bench). I can only imagine that Ancelotti had in mind the same idea that Mou had in playing Pepe in that spot: to mark / track Messi (the false 9). I also imagined that this role was given to Ramos instead of Pepe given that the latter has proven to have issues with over-aggression which have proven impossible to curb.
.
But while Ancelotti prepared for the havoc that would be caused by Messi as a false 9, it seems to me that Tata Martino also prepared for the havoc that Marcelo + Ronaldo would cause through Madrid's left flank. His solution to this was to create his own super-combo on Barca's right flank that would duel with Madrid's Ronaldo-Marcelo: Messi-Alves. The effect on Madrid was two-fold: Firstly, it created a stalemate on the Madrid-flank with CR-Marcelo and Messi-Alves cancelling each other out. Madrid could no longer mindlessly bombard Barca's right flank with Messi and Alves working together there (so much so that one of the highlights of the match was Alves nutmegging a Ronaldo who had tracked back to stop him on that flank). And secondly, the false 9 Ancelotti prepped for (who was supposed to be Messi), turned out to be another guy (Fabregas).
.
The truth of it is that despite Martino's switch, Ancelotti's system still worked in theory. What made things really dicey for Madrid was Ramos' Yellow Card. Now forced to be extra-careful, Ramos' role as a holder essentially became useless: he was neither able to dominate the midfield with his tackling (because of the yellow card) nor his ball distribution (he's no Alonso): allowing Xavi and Iniesta to seize control of the game (especially in the first part of the first half).
.
.
A Forward Problem
One of the many Critical 'Pieces' Online Re: Bale's Performance as a Center Forward Last Night. What can I say? That's what you get if you cost 100m, right?
What happens when your first-choice striker has been missing open goals from 2 yards away and you're not quite ready to trust your 21-year old backup? Last Saturday, Ancelotti attempted to use the world's most expensive player in an experiment which utilized him as a false 9 of sorts. A lot of people are having a good laugh about in now, but a second thought would tell you that there was merit to what Ancelotti was thinking:
.
Gareth Bale after all had his best season in the Premier league in a free role through the middle last season (albeit behind a striker). And Real Madrid after all were playing Barcelona: a team whose weakness is its vulnerability on the counter. Ancelotti pragmatically believed that Madrid's chances to score would come off a counter attack (our lone goal c/o Jese was scored on a counter) so he opted to field a front line with players who ran like the wind. The logic to me, was NOT flawed.
.
It didn't work though. Despite the fact however that at this point, having a front 3 of CR-Bale-Di Maria only works in FIFA (the video game), there is no reason to believe that it is an experiment that is inevitably doomed to fail... perhaps it was just way too soon to try it. Benzema fluffed a great chance to head once he came on and hit the woodwork when he came one. This tells me that based on the way we play, a striker is needed. The meat of the matter however is the fact that what the current system needs is a clinical, mobile but physically potent striker to lead the line… and until Madrid are able to land one, we will have to make do with the sort of chopping and changing between Benzema, Morata and even Bale as we are seeing now.
.
One thing that we might need to ominously accept: that this season will be a writeoff for Gareth Bale, just like the last one was for his ex-teammate at Tottenham, Luka Modric. Yes, the club paid 100m for him: but at this point in his career (or his life), he has not yet (or may never) reached the sort of superhero-level physical condition of his idol Cristiano Ronaldo. And clearly not yet match fit, it is very likely that we will see him make sporadic contributions to the team this season and only blossom into form next season just as what happened to Modric. Perhaps we now ought to accept that this is what happens if you buy players from Daniel Levy.
.
.
Let's not hit the panic stations just yet though as there were a few positives in the game for Madrid:
We're Now FAR More Comfortable in Possession
Even with Sergio Ramos playing as a holder, Real Madrid had a few bouts of possession able to cope with Barca's pressing to move the ball forward. Things also started to improve considerably for Madrid when Ancelotti finally decided to torpedo the 'Sergio Ramos Midfield Experiment' and sent in a proper holding midfielder in Asier Illaramendi. Keeping possession of the ball and duly creating chances against Malaga or a 10-man Juventus is one thing – to be able to do it in a Clasico against this Barcelona is quite another. Lock in it. Pin it down. Real Madrid are officially learning to play a possession game once again. This is no longer the team that looked completely hapless and deserving of a loss to Atletico weeks ago. The ultimate testament for me, was that we played well enough on the front foot to force Tata Martino to play a double pivot (sending in Alex Song for Iniesta) to protect their back 4 who were increasingly being put under pressure by our boys.
.
It's important to note that their second goal, scored after our boys made them go into 'Mourinho mode' (4-2-3-1 with 2 'pivots') was also scored Mourinho-style: on the break. I honestly don't remember the last time we forced them to play on the counter in their own house.
.
.
The (Spanish / Cantera) Kids are Alright
Was it Arbeloa's atrocious performance against Juventus? Or the fact that he got skinned by Neymar in the Confederations Cup is still fresh in everyone's minds (including Ancelotti's)? Has Carlo Ancelotti now finally awakened to realize that Real Madrid's best Right Back (and probably Spain's) is the young Dani Carvajal? The youngster showed absolutely ZERO symptoms of stage fright: bombing down the right touch line with aplomb and did not cower at the prospect of facing Neymar on defense. I am hoping that Carvajal's place in the starting XI is a sign that Ancelotti has made his choice too as to who Madrid's first-choice RB is.
.
Ancelotti's decision to send in Jese is to me, an indication that Carletto's mind was clear with regards to what he wanted to accomplish tactically as the game was dying out: he wanted pace on the break and directness – which was why he opted to send in Jese instead of Morata or Isco. The young Jese duly responded by scoring what appeared to be consolation goal – but a goal that nonetheless demonstrated what Ancelotti had in mind as time was running out.
.
Ditto for the drastic improvement in Madrid's overall play upon the introduction of Illaramendi. All that's left is to figure out how / where Isco fits in all this.
.
.
We're actually not THAT far away from them
Marca put it quite nicely today: Keep Calm: This Madrid is Starting to Function
At the end of the day, Barcelona won 2-1 but did it neither emphatically or even convincingly (of course Cules will argue otherwise). Their opening goal was scored off a speculative attempt and their second off a counter attack after they've been placed on the backfoot because of our team's improved second half play.
.
At the end of the day however, I don't quite know how to place our team's expectations. As a pragmatic man without unreasonable delusions of grandeur, I find myself pondering that I can painfully accept this season as one in transition and therefore to be accepted as one where silverware might not be forthcoming. The truth is that this Madrid is beginning to function as Carletto and his men have envisioned it and is slowly getting there. Whether we get there in time to win silverware is another matter altogether though.
.
Today, I'm not raging in fury (over the loss, the penalty, etc.), I'm not soured by bitter disappointment, nor do I feel heartened enough by the positive signs seen out there last Saturday. It's mixed feelings all around for me.
.
To be quite honest – I'm actually not really sure how I feel. But then again – it's Monday.