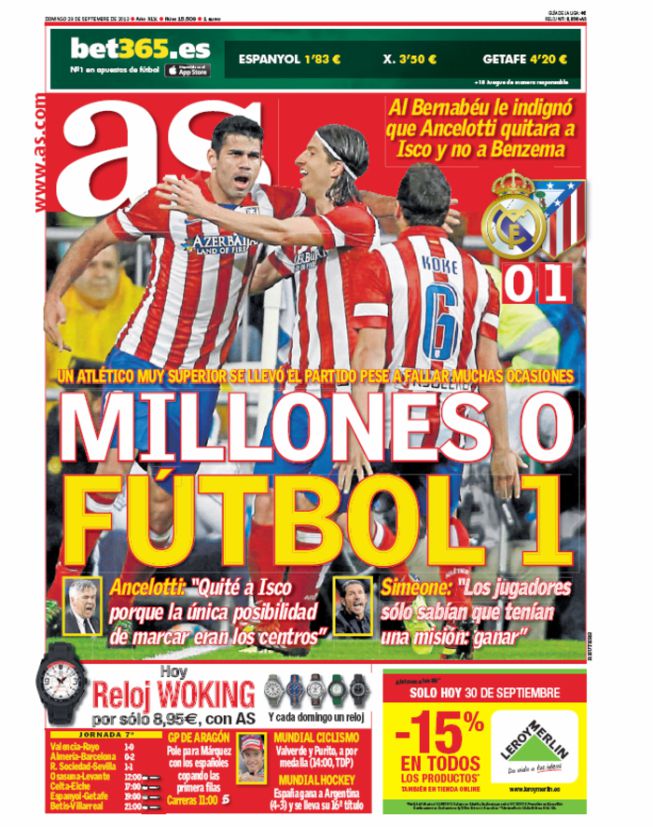 AS' cover yeterday was spot on. Atletico Madrid played like a proper football team. Real Madrid's played like a Suburban Millionaire's neighbourhood team where the players hardly knew each other.
I suppose that it's REALLY now safe to say that this season's likely La Liga winners are going to be Barcelona.
.
And with that, I also suppose that the team to place second this season will be Madrid... and at the rate things are going on at the moment, it looks to be Atletico Madrid.
.
It was bound to happen sometime – Real Madrid were bound to lose a match in the Ancelotti era at some point. So now here it is – at the hands of our city rivals. Losing however wasn't what hurt me. Diego Simeone's Atletico Madrid side has been rising and rising over the past few years. It was inevitable that at some point, they were going to beat us. What really hurt me was how Real Madrid were so hapless and so unprepared to face Atleti. They were all over us and there was ZERO coherence in the way that Real Madrid played - it was as if everyone was just waiting for Ronaldo or Bale to magically score... or for the Atleti of the past 14 years to turn up and self-destruct... or for the ref to call a ridiculously dubious penalty ala Elche. Yup: the ref's incompetence bailed us out on that one. Last Saturday however, Atleti's brilliance and our team's incompetence allowed Karma to haunt us. We may have escaped from the draw midweek, but we did not escape from the jaws of defeat last Saturday. There's no denying that some form of justice was served onto Real Madrid.
.
.
At the heart of all this are the questions that Madridisimo is asking our coach Carlo Ancelotti. Mourinho's team had the inherent weakness of cracking through teams who 'park the bus' yet was ridiculously devastating and irresistible when given the opportunity to play with directness (on the counter). Ancelotti's team was supposed to be a different one: with an emphasis towards more possession and patient build-up play. What I realize however is that despite the supposed difference in approach and playing style between Ancelotti and Mourinho's Madrids, many of the ingredients remain the same and that the quality of the team's players do not necessitate an overhaul of the squad to accommodate this desired stylistic change.
.
.
A Dance Partner for the '10'
Whether it was Mesut Ozil or Isco, whether it's a 4-2-3-1 (Mourinho), a 4-3-3 (Ancelotti) or a 4-4-2 (Ancelotti), Madrid always had another creative player in the middle as a 'dance partner' for the '10'. With Ozil, it was Alonso - and now under Ancelotti, with Alonso still recovering, it has been Modric. The partnerships have been very logical in a stylistic sense too: For Mou it was a midfielder with unparalleled passing range (Alonso) hitting long, raking vertical and diagonal passes to a mobile '10' in the final third of the pitch to create 'Formula 1 Football'. For Ancelotti, the team's most successful spells in attack have been borne from the combination passing of Modric and Isco.
.
"
We were slow in attack.
We didn't have a good game. We have to recover and improve," he told reporters after the game...
Losing a match at home is not easy. I have to think about solutions. We played well up until last week. We have to continue working with the same system but I'm confident we will improve.
We must improve a lot of things including our attitude and confidence. I have faith in my players.
The problem is not our style of play
;
it's with our pace.
"
- Carlo Ancelotti
Carlo Ancelotti's post-match words have struck me: particularly his pining for more pace and speed in the way thee team play. I do NOT believe that when Ancelotti was criticizing the team's speed of play or pace, that was referring to a Mourinh-esque definition of 'speed' or 'pace' but that he was referring to speed and pace of ball interchanging - for the players to have quick interplays of passing exchanges while moving into space to as to loosen up the massed up opposing midfield and defense that had built up in front of the team when we had the ball.
.
Where I felt that Ancelotti made a miscalculation however was the misguided decision to match Atletico's midfield physical presence. Perhaps clearly aware that he was on for a physical battle: Ancelotti opted to have Illaramendi partner Khedira in the middle of the park (over the more lightweight but creative Modric). The selection proved disastrous. Illaramendi was unable to organize the team's play or dictate the tempo of the match with his passing... and robbed Isco of a 'dance partner'. Illaramendi is a talented young man, but still not ready for the responsibility of being the conductor for the team on such big occasions. The Real Madrid midfield failed to cope with Atleti's pressure: and a lost ball at midfield would eventually release Costa in a beautiful one-on-one situation from where he scored the game's only goal (A big kudos must go to Lopez for saving Costa's effort in his second one-on-one with our #1).
.
The team played (slightly) better with Modric on the pitch in the second half.
.
.
An Attacking Fullback - 'Dance Partners for Inverted Wingers'
One of the things that I celebrated the most about the acquisition of Dani Carvajal was that it gave the team the opportunity to have a variety (attacking or more defensively sound) of fullbacks for both flanks. a 4-4-2 (4-2-2-2) with fullbacks attacking on both flanks will be very vulnerable on the counter. A 4-4-2 (4-2-2-2) with no fullbacks providing adequate width attacking danger with their wing players (Isco and Di Maria / Bale) is in for a clusterfuck in the middle when faced with a team on full defensive mode... and this was what happened last Saturday after Atletico scored.
.
There were matches where injuries have forced the team to just go with the players we had available on defense - in siutations such as that, there is no choice but to go with the defenders we have at our disposal. Last Saturday however, 3 out of our 4 fullbacks were available (Arbeloa, Carvajal and Coentrao) thus giving Ancelotti the option of having an attacking fullback one one flank, and a more defensively conservative fullback on another. Alas, Carletto opted to play safe and opted against the more attack-minded Carvajal and went with Arbeloa and Coentrao.
.
I'm not saying that Coentrao and Arbeloa hardly ever cross the halfway line - they do it frequently and in doing so, 'relieve' the pressure in the middle to spread the pitch wide. There is a difference though between a fullback who merely crosses the halfway line to receive a pass (and stretch the pitch wider in the process) ala Arbeloa and Coentrao compared to one who will receive a pass and pose as an attacking threat to cross the ball to the center or to link up with a winger and overload the flank of a defending team (Marcelo, Carvajal).
.
Against an Atletico team who had gone narrow to protect a lead, width was the critical ingredient to open them up. With 2 inverted wingers drifting inside (Ronaldo and Bale) and without attacking fullbacks to overload the flanks and force Atleti to ruin the balance of their team shape, Real Madrid failed to undo the clusterfuck that Atleti had created in front of Courtois' goal.
.
Many have criticized Arbeloa in particular for his lack of contribution on attack and I've found this to be unfair because I've always felt that he ought to be measured by the right standard: as a defensive fullback. Unless you'rep playing in a video game, playing with 2 attacking fullbacks is a very dangerous way to play. Playing with one however, gives you a nice offensive edge to unbalance your opponent when he's packing it in... and last Saturday, our team didn't do that.
.
.
Another kind of Striker
Morata should be given a full game to play not just because he's a young, hungry and talented canterano.... but also because he's a tactically different type of striker to Benzema and gives the team a different dimension in attack.
One of the game's most most difficult moments was when Ancelotti's decision to sub out Isco for Morata was roundly whistled by the Bernabeu. While it is true that Benzema hardly got any decent service during the match, it was also true that a player who isn't really a threat in the air ought to make more than a few runs or even drop deep to collect the ball. He hasn't done any of that yet this season... and if you combine that with the host of sitters that he has missed (that has had Arbeloa and co. insist the upon the Bernabeu to applaud him when he was subbed out some matches go) then surely the possibility of making a change ought to be considered. This to me would be especially valid when you have a young, hungry, superbly talented and most importantly - a tactically different player, available in Alvaro Morata.
.
When I first saw Morata, at 6'3 and with comparisons being made by his coaches and many pundits to Fernando Morientes, I thought to myself: 'Target Man'. When I really saw him play though, I was also astounded by the fact that for a guy his size, his pace is also very impressive.
.
Last Saturday, as Madrid hunted for the equalizer, Madrid in my opinion needed to do a few things SIMULTANEOUSLY:
1.) Quicken the pace of passing and moving through the middle, which could have been helped by:
2.) Stretching the pitch open with supporting fullbacks supporting our inverted wingers by overloading one of both flanks and...
3.) Having an active, mobile target man available in the middle to physically impose himself on Atleti's CBs and be yet another aerial threat.
.
Ancelotti sent Morata in, who duly executed an on-target bicycle kick from a cross and also took on a few Atleti defenders on a mazy run on the left flank like he did many times for the Spain U-21s last summer. Morata is now chomping at the bit for a chance to start and prove himself. His substitute appearances have shown him to be over-anxious to prove himself in the short 20-30 spells he's been getting as a substitute thus far. The kid is due for a start, it started with a few murmurs but bit by bit were are hearing the madridisimo clamor for it.
.
Note to Florentino: Madridisimo will applaud you for bringing a galactico, but it will worship you if your mandate produces a homegrown canterano to lead the team's next generation. In Morata and Jese, you might just have the right pearls. Please have your men treasure them.
.
.
5 Points
Madrid are now 5 points adrift of the co-leaders Barca and Atleti. Even in a 2 (or 3) horse race league, 5 points is not an insurmountable lead. Barca are having their own wobbles despite the fact that it has not yet been seen numerically with regards to their league points totals. Atleti on the other hand are the in-form team of the league but it is difficult to see them keep this form up with their relatively thin squad.
.
The REAL question is how Madrid can pick themselves up from their current troubles. We have Copenhagen next at the Bernabeu and there is no reason why we can't beat them and APPEAR to paper over the cracks that have appeared over the last few games (heck, I won't put it past Benzema to score a hat trick even). The test I'm keen to see would be the match against Levante in the weekend - another tough defensive side playing in their home ground.
.
All of us are pining to see a solid Real Madrid victory not from a 'bailout' super-golazo from Ronaldo or a dodgy refereeing decision after a bad team game. What we're all waiting for is a performance that reveals a a well-coached and well-executed game plan. And only when we can manage to do that can we expect Karma to bite other people's asses and not ours.