Real Madrid face Atleti tonight in the Copa Del Rey Semi-Final. And while it's true that the team (sort of) have the license to not cry over not winning the competition this season, tonight's match is nonetheless a very-important acid test for the team.
.
I would in fact recommend for Ancelotti to take a page off Mourinho's strategy. In his first season with us with a team 'under construction', Mourinho made if very clear that he was taking the Copa Del Rey seriously. Thus, our CDR win in his first season to a certain extent, became a soothing balm that helped heal the scar left by our 5-0 defeat at the hands of Pep's boys. It also laid down a marker of progress for the team and in a way, gave the club a 'consolation prize' which was very critical for the morale of the players. It eventually served as the foundation for our historic 100-point, 100-goal La Liga winning season.
.
In La Liga, Real Madrid have lost to Barca, Atletico while in the Champions League, we've been lackluster against Juventus. So far, we have been La Liga's Flat Track Bullies: comfortably putting poor teams away whilst struggling against good sides. It is for this reason why I'm more antsy about tonight's match than usual: I'm anxious to see Madrid play well against a good side. And as of this moment, in Spain, there is no better side than Atletico Madrid. (there, I said it).
.
.
Life Without Cristiano (for the next 1? 2? 3? La Liga Matches)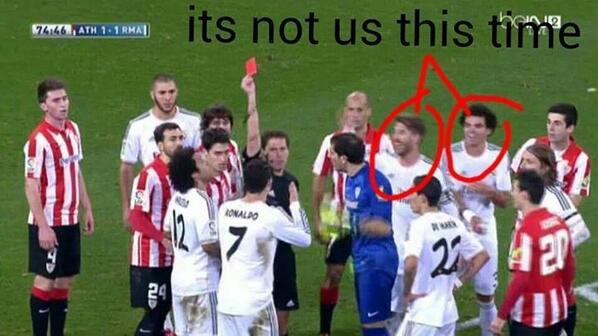 A Look Into the Lighter Side. +GeniusFootball (follow them on twitter) posted this and it gave me a good laugh. Yes, Gurgegui and Itturaspe were clearly being vile for their play-acting, but Cristiano had no business raising his hand onto an opponent's face.
As of this writing, it is not yet clear how many La Liga matches Cristiano will miss as a result of his red card against Athletic last Sunday. It's pretty likely that Real Madrid will miss having Ronaldo in their ranks against the impressive Villarreal at home this weekend and might also miss out on the team's trip to Getafe (where RM have unexpectedly dropped points many times) and perhaps even the home game vs. Elche if he were to be supended for 3 matches.
.
Carlo Ancelotti has a few interesting options to consider for the lineup in Ronaldo's absence:
-Does he carry on having Jese in the starting XI with Bale taking up the other wing position?
-Does he bring Di Maria back to the wing and play Isco or Illaramendi at midfield?
.
Real Madrid have played without Ronaldo before and those instances for the most part have not been all that bad. Perhaps the suspensions might just be the perfect opportunity for Ancelotti to cultivate the confidence levels of the team's other players in our superstar's absence.
.
.
Yes, yes, yes, January's 100% record with 0 goals conceded was enjoyable. But the first batch of this season's REAL acid tests come on February. And if I had to choose between a flawless month of not-so-important matches vs. a month of Acid Tests that we pass by the skin of our teeth, I choose the latter.