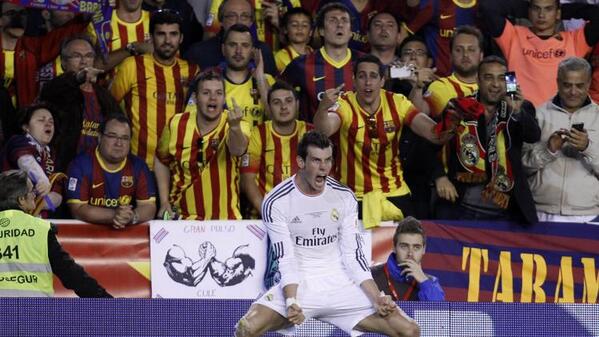 'Banzai Motherf#cker!' Is what I would have screamed if I was Gareth Bale in that Situation.
Right this very moment, every Madridista have EXACTLY the same taste in their mouths. That my friends is the sweet, deliriously wonderful, and absolutely addictive taste of victory. It is only our first taste of silverware this season. We have now dispensed of more than half of April and when we consider the fact that a treble is still achievable at this point, it's difficult not to conclude that we've had a pretty darn good season thus far.
.
I've called this bunch a pack of 'spineless, gutless chokers' – unable to beat the big team on the big occasion. Last night they proved those words of mine to be absolutely wrong. There are no bigger victories over big teams in big matches than ones over Barcelona in a Cup final with silverware at stake. It's important to note that this praise isn't just about winning too, it was also very much largely about how the team won.
.
We won without our best player. Above all, we won after our team's character was once again put into question: after our first half lead was cancelled out by one of our only 2 defensive lapses in the match (we normally have 2 every 20 minutes). The team reeled a bit following Bartra's equalizer: but it held on, buckled down and fought back. And on the occasion where we did not have our best player, where we needed that 'crack moment', where we needed a hero to stand up and be counted, we found one (Bale) who sent us to glory.
.
.
Battle of Wits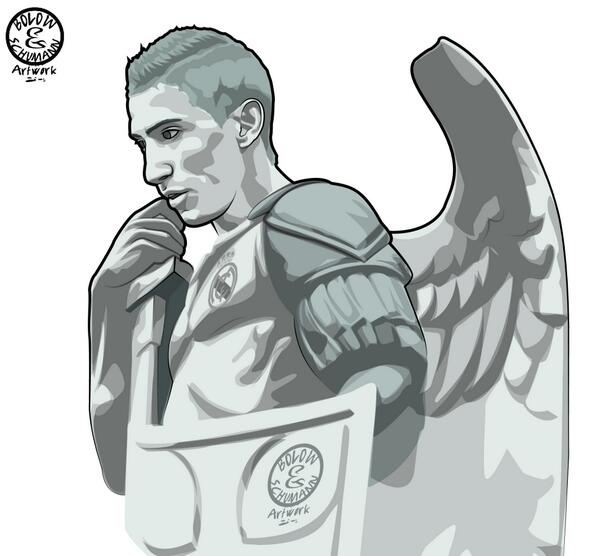 The unsung hero behind Carlo's flexible tactical system last night was Di Maria. His quality, versatility and workrate make him a trump card in Carlo Ancelotti's deck.
Carlo Ancelotti won the tactical battle last night, hands down. Bereft of his best player (Ronaldo), Ancelotti duly turned his disadvantage into an advantage. For pretty much the whole season, we've spoken about Real Madrid as a team that plays the 4-3-3. Last night, the intent APPEARED to be a 4-3-3 as well: Bale and Di Maria played as wingers with Isco Alonso and Modric playing at the Center. There was however one simple variation which took advantage of Ronaldo's absence: when the other team has the ball, the team would play 4-4-2 (or 4-4-1-1)… and with Barca having 67% possession, it really did look like we were playing 4-4-2 for most of the game.
.
Making use of Di Maria's willingness to put in a defensive shift, Ancelotti had El Fideo drop deep (with Isco shuffling over to the left side) to form part a neat 'line of 4' parallel to our defensive line – leaving a striker (Benzema) and winger/forward (Bale) as attacking outlets. The pairing worked wonderfully with Bale almost able to roam freely behind Benzema just as he did when he was with Tottenham. Ancelotti would then deploy the 2 banks of 4 closely together, compressing Barca's space and ability to 'play between the lines.' Shifting Di Maria to become part of the 'midfield line' also creates another positive knock-on effect: it brings Alonso and Modric to form a double pivot at the center: allowing them to position themselves in a manner where Messi is almost always constantly surrounded by 4 players: our 2 pivots and our 2 CBs.
.
The ploy was so effective that people started commenting 'Really sad that Ronaldo AND Messi were not in the final though' (suggesting that Messi had 'disappeared' in the game). Also, in playing in this manner, Madrid could easily have been up 3 or even 4 goals by halftime.
.
This is NOT the first time we saw this from Ancelotti. He deployed
similar tactics
in a
Champions League tie also against Barca
: a striker (Ibrahimovic) and a winger/forward (Lavezzi) up front, while a natural winger (Lucas Moura) would drop deep on the right with a '10' (Pastore) shuffling over to the left side. Real Madrid's quality across the board however is far superior to that PSG team (Di Maria instead of Moura, Isco instead of Pastore, Alonso + Modric instead of Veratti + Motta / Matuidi / Beckham). We've seen glimpses of this this season too but to less effect: as Bale (who would drop deep to form part of the midfield line) could not match Di Maria's workrate. Thus the tactical question I'm asking myself at the moment is: When Ronaldo comes back, how can we repeat this trick against Bayern?
.
It's also notable that the defense was impeccable last night. Carvajal was clearly given instructions not to be too gung-ho in bombing forward, whilst Pepe and Ramos stood off more and took less risks 'raiding forward.'
.
After the match, Marc Bartra, sounding like a sore loser, lamented that 'Madrid only had 2 chances and scored'. He needs to watch the replay: it was Barca who only had 2 chances, both of which came off Madrid's only 2 defensive errors last night: Pepe losing Bartra for their equalizer, and no one tracking Neymar which led to the shot at the post.
.
.
Battle of the Number 2s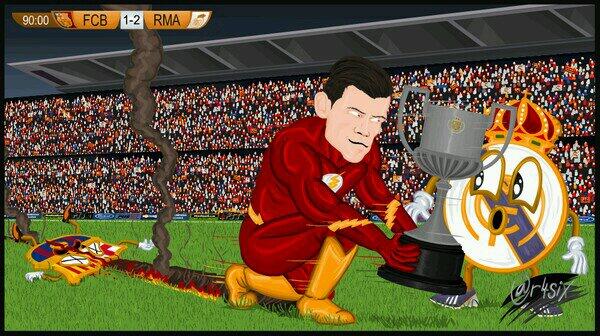 Bale was last night's Real Madrid Superhero.
.
With Ronaldo injured and left to irritate us with that ridiculous baseball cap, and Messi having been erased from the game thanks to the tactics of both coaches (including his own), it was a match that in many ways a duel between the respective teams' #2s, both of whom also happen to be the world's most expensive players: Neymar and Gareth Bale (a friend posted on facebook: what do you do when you have 100m? Real Madrid buy a Rocket, Barcelona buy a Dolphin).
.
Neymar's first clasico was marked by a goal and an assist. Bale's was marked by a stint playing as a striker lost at sea while only half-fit. Since then however, Bale has steadily progressed to become one of Real Madrid's most important players. The opposite is happening with Neymar, who along with Cesc Fabregas is fast becoming the epicentre of discussions to dissect the Barca's tactical chaos. It is thus somewhat fitting, that on the final clasico of the season, it would be Gareth Bale who rises up and scores the title-winning goal, whilst Neymar's unfortunate spell of luck (hitting the goalpost) becomes a mere footnote of the game.
.
It's fascinating to note that just as most recent Clasico narratives have been impossible to detach from Ronaldo-Messi discussions, here we are, talking about a clasico with neither Ronaldo nor Messi unable to play the role of protagonists - finding ourselves talking about the 'next generation' narrative in Bale and Neymar. The fact that Florentino's first choice signing (prior to Bale) was Neymar, makes the discussion even more fascinating (an good piece on that subject matter can be found
here
).
.
.
Class
No Sending Offs, No Dirty Play. Just football and classy behavior. A refreshing relief.
It's also worth pointing out that the match featured a lot less of the irritating and unnecessary Argy-Bargy that we used to see in the clasico. Referee Matheu Lahoz deserves praise for not calling tippy tappy fouls which would have encouraged simulation antics as well, which are potential sources for sending-offs and other hostile, class-less behavior. I was particularly touched by Iker's gesture to dedicate the victory to Jese (a photo of Ramos facetime-ing with Jese , who's in Germany for his knee treatment would emerge later after the match).
.
The sight of Ronaldo sportingly consoling the dazed Messi was also a refreshing break from the icy stares we normally see the 2 firing at each other.
.
I have to say this: I really enjoyed this controversy-free clasico.
.
.
Only a Warm-Up
This has been a huge win and the timing is also impeccable. Psychologically, it's the sort of confidence-boosting win that we need in order to inject belief that we are capable of upsetting Bayern (I use the world upset as I think we are the underdogs) – even if we are forced to play without Ronaldo once again.
.
Tactically, with Pep's Bayern just as obsessed with possession, and proven to be just as vulnerable when attacked with pace on the counter (as shown by Dortmund), many of the ideas used last night are very much applicable against the Germans as well. It must be clear to all however that relative to the Bayern tie, last night's match is only a warm-up. Unlike Barca, Bayern have the sort of players who can punish us when forced into crosses to their big men. And unlike Barca, Bayern are equipped with players who can dish out as much crap as we give them should a physical war of attrition take place. We will need to be at our absolute best when we face them.
.
Thankfully, last night, we took the right step forward. We've obtained the sort of mental nourishment that is critical to succeed at our next challenge. Last night was merely a First Taste. Here's to hoping that a Feast is up next.