You can also download the podcast
here
:
Spain 1 - Netherlands 5: The 'Roja' Wedding
It's painful to see Iker like this.
This would be perhaps the most shocking result of the WC thus far. The shock does not come from the fact that the Dutch won, but from how badly they destroyed Spain. For the few who don't follow the HBO series Game of Thrones, the 'Red Wedding' is an infamous scene in the series that sees major protagonists get massacred whilst attending a wedding. Well, we were all geared up and in a festive mood to kick off the events for Group B in the world cup until we saw the World and European Champions get butchered.
.
I had predicted a 2-1 Spain win but advised a friend (who gets the betting man's disease when the WC rolls around) that the odds for a draw would probably be good and that would be worth a punt. So, when Van Persie equalized with his 'salmon leap' header, I thought that 45 minutes would be plenty of time for my anticipated result to pan out.
.
And then it happened.
.
Let me say this: all the goals that Spain conceded were the result of individual errors particularly by Iker Casillas, Gerard Pique, and to a lesser extent, Sergio Ramos.
.
The Van Persie's first goal was a result of Pique dropping too deep and playing Van Persie onside. Robben's first goal was Pique's fault too: coming too late, he forgot what the entire world already knew: that Robben would cut to his left foot and shoot, he sealed off Robben's right foot instead and duly got turned. The next 2 goals would be on Iker. De Vrij's goal was very similar to the once Casillas conceded to Diego Godin in the Champions League final: flapping and misjudging a cross and getting punished for the loose ball. Ditto for Van Persie's second, where Casillas had a 'Paul Robinson moment' (remember him!?!?! I'm embarrassed to put the 2 names in the same sentence!). Robben's second goal was a repeat of his first: this time with Casillas making the mistake. Pique was trying to seal off Robben's left foot - what was Casillas doing trying to dive at the Dutchman's right? When did the best goalkeeper in the world, Real Madrid's all-time greatest goalkeeper become Calamity Casillas?
.
Whatever happens to Spain in this WC, Casillas must look himself in the mirror and admit that the time has come for him to let David De Gea take his place as Spain's #1. I would in fact, not mind seeing the change happening in the next match. Yup, you just heard that from a Real Madrid fan.
.
As for the rest of the team, Del Bosque I think needs to have a tactical re-think. The team's width comes almost exclusively from the fullbacks alone with the 2 supposed wide midfielders (Iniesta and Silva) drifting inside. This makes the team predictable, and less incisive, especially with Xavi unable to single-handedly control the match with his passing any more. A real winger with pace (Pedro?) is needed. Diego Costa needs someone who he can be in synch with on the pitch too, so perhaps Koke ought to be considered. The temptation is great to stick to the old guard, but we must all know when the time has come to make changes.
.
Here's another thought: the second-placed team in this group will play the first-placed team of Group A, likely to be hosts Brazil. Is this the WC where we will see the Spanish Armada get shipwrecked?
.
.
England 1 - Italy 2: Guilt
I have to admit that I really enjoyed watching this fresh young and fearless England side vs. Italy
I have NO idea who to support in this WC. Many Filipinos have always had an affection for Brazilians during World Cups, and I am no different. I supported the Romario-led Brazil in USA 94, had Zidane break my heart in France 98 and went crazy with a pack of strangers when Ronaldo redeemed himself in Japan-Korea '02. I never got over the heartbreak caused by the implosion of Brazil's 06 side and thus went on to cheer for Spain in 2010, dancing on my bed at the sight of Iniesta scoring.
.
Before this tournament began however, I had already decided I wasn't going to be cheering for Spain. I told myself that I'd watch the group stage games and make my mind up from there. And here's where my guilty confession comes in: of all the games I've seen so far in this WC, no team has entertained me as much as England.
.
Props must go to Roy Hodgson for letting majority of the old guard make way for the fresh and fearless youngsters in the team: Sturridge, Sterling, Welbeck, Henderson who all gave good accounts of themselves against Italy. They lost to an Italy side who showed the frightening savvy of a side who understands what it takes to win this competition: tactical nous (Prandelli), calm and clear-headedness (Pirlo), grit (Marchisio, Candreva), ruthlessness (Balotelli) and verve (Darmian). Did we just see the sort of performance that makes this team a dark horse for the title?
.
Either way, I find myself covered in guilt as I feel as if I'm getting myself sucked into becoming an England fan (no offense to England supporters out there). At the end of the day however, I truly believe that if they play with the sort of verve, energy and fearlessness that they displayed vs. Italy for the rest of the competition, I have no doubts that they will make a dent in Brazil.
.
.
Ivory Coast 2 - Japan 1: Elephants Trample on the Samurai
Honda's Karate Kick goal gave me hope Japan could pull it off, but the Ivorians' power was just way too much for the Japanese to handle.
As an Asian, I will cheer the Asian teams by default, so I was cheering for the Blue Samurai when they faced the Elephants of the Ivory Coast. I had my father-in-law, who probably never saw a single football match in his life, cheering for them too. We both leapt off the couch when Keisuke Honda pulled off his Karate-kick shot to make it 1-0 for Japan. After that, all we hoped for was for them to hold on for the win.
.
The analogy of Blue Samurai vs. Elephants was no exaggeration however. Japan fought and tried, but could not handle the physical power of their Ivorian counterparts. The Ivorians were too big, too powerful. The Japanese were mangled in pretty much every physical challenge. Exhausted, the Japanese had no answer for the energy and motivational boost that the Ivorians enjoyed once their 'King Elephant' (Drogba) turned up and duly conceded 2 goals in a matter of minutes.
.
A word for Arsenal, who is rumored to be looking at Serge Aurier to replace Sagna (who joined Man City) as the team's Right Back: Sign him up!
.
.
Argentina 2 - Bosnia Herzegovina 1: Pushing me towards England
Messi had the best goal of the tournament thus far but his team raised plenty of tactical questions.
A colleague asked me today if the reason I looked like a panda bear was because of the World Cup or if it was because of my newborn daughter. I had only gotten up to watch one match at an ungodly hour over the weekend (Spain vs. Netherlands at 3am). The others were at 12mn, or 6 in the morning, just an hour earlier than my usual wake up time. Argentina-Bosnia was on at 6am today and after the opening goal (a Bosnia OG), I dozed off for the rest of the first half.
.
I have NO idea that Argentina were trying to accomplish with the 3-4-1-2 they started the game with (with what looked to me like Mascherano as a '10!'). In my half-unconscious state, I could hear the play-by-play commentator calling the game as if it was Bosnia-Herzegovina who were creating the scoring chances. Argentina couldn't string 3 passes together!
.
I had to get ready for work by the second half. And so did Sabella, reverting to a more logical 4-3-3 with ex-Real Madrid player Fernando Gago in the central midfield. The front 3 remained unconvincing for me: with Messi playing as a false 9 means that striking talents of the team like Higuain and Aguero will be playing in the flanks. Yes, yes, yes, Messi might be the best player in the world when on song (and his goal duly demonstrated that), but in this situation, his role doesn't make full use of his teammates' talents.
.
One of my picks to possible make the final remains unconvincing.
.
.
Germany 4 - Portugal 0: Pepe goes mad. AGAIN.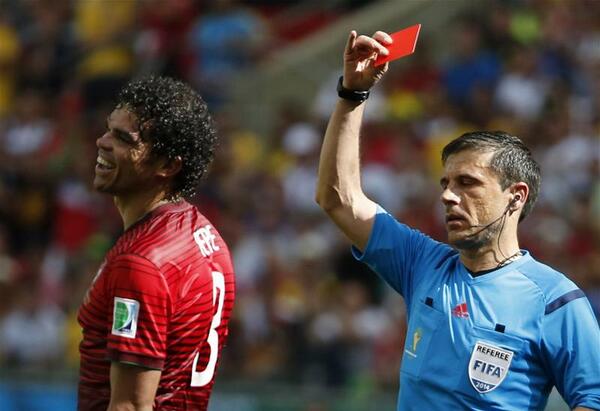 Pepe self-destructs AGAIN.
I cheered for the Germans in Euro 2012 but became a skeptic of theirs because they're essentially playing this tournament with a 36(?) year old striker (Klose). Loew's side looks slightly different this tournament though. They looked like a 4-3-3 with Lahm and Kroos sitting deep and dictating play from there: creating a weird situation of Sami Khedira freely receiving passes in advanced position with space to feed the front 3 (as if he was a #10). Ozil and Gotze, both natural #10s, played on the flanks with Thomas Muller playing as the striker. Muller scored a hat trick and the scoreline looked great for the Germans.
.
Here's my tactical critique though: playing with natural CBs as fullbacks (Boateng and Howedes) and with #10s (Ozil and Gotze) as wide midfielders, they're the sort of team that can get choked up against a team with a great defensive set up.
.
Let's call it what it really is. Germany won so handsomely because Portugal's players had their minds in Mars when this game happened. Pereira's silly, early conceded penalty, Rui Patricio passing the ball directly to a German player twice and most of all Pepe having completely lost his mind (2 red-card offenses: fouling a player who might have a clear goalscoring chance, and headbutting Muller). Pepe might never set foot on a world cup pitch again because of this, and it's hard to argue that he didn't deserve it. His team played a man down for majority of the match and look to miss him (their 2nd most important player to Ronaldo) for the rest of the competition.
.
Portugal Iberian neighbour Spain as having been butchered at the hands of a Western European neighbor (Germany, Netherlands).