It was a debut goal for James. A scrappy goal, but they all count - especially in a scrappy, cagey affair.
We are now pursuing trophy #2 of the 6 up for grabs this season. And like many things in life, the degree of difficulty will only increase as we go from one trophy to another. Trophy #1 (UEFA supercup was claimed with relative ease), Trophy #2, which features 2 rounds against La Liga champs Atleti was always going to be tough. Trophy #3, the Club World Cup, may feature weak opponents, but will be held in December, where injuries, fatigue, and vacation mode mentality creeps into the team. Trophy #4 will be the Copa Del Rey – and the bulk of that competition will be on January, where the team will suffer a post-CWC/winter break hangover. Trophy #5 of course is the La Liga title which we have not won in 2 seasons and of course, the sweetest one of all is #6 – La UNdecima.
.
But let's go back to trophy #2, where Real Madrid pretty much collectively laid an egg on the pitch against Atletico at the Bernabeu last night – drawing 1-1 thanks to a goal scored by James on a 'scramble' and conceding an 'away goal' in what must now be a VERY familiar source: a set piece.
.
.
Team Shape / Tactics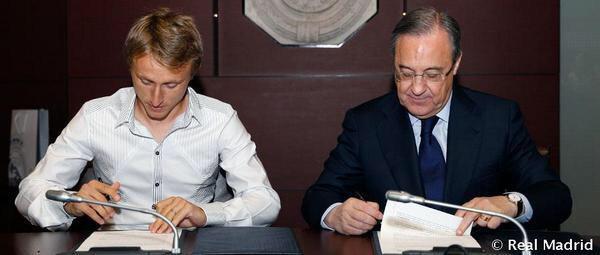 A well-deserved contract extension for Modric. The Real Madrid midfield will need to drastically improve on Friday though if we are to lift the Spanish Supercup.
Ancelotti lined the team up
as I dreamed up
: a 4-3-3 with Kroos-Xabi-Modric lined through the middle. We were going to control the game and eventually figure out a way to unlock Atleti's organized defense. Only we didn't.
.
Rather than being able to constantly circulate the ball with their passing and movement, Kroos, Xabi and Modric passed the ball around and remained static, unable to force Atleti's defenders off their positions to enable us to find openings. As a result, the team became too dependent on our wide men (Ronado + Marcelo / Bale + Carvajal) to force the action – making the team's play even more awkward. During those stages of the first half, the state of Real Madrid's play really did seem to call out for a '10'. Going as far as switching to a 4-2-3-1 might not have been necessary (something Ancelotti could have done without as substitution as both Modric and Kroos are playing either as a pivot or a '10'). After all, what was just really needed was for our midfielders to be more active: both both Kroos and Modric to shuttle up and down the pitch almost as twin playmakers. If done well enough, there would be no need for a specialist '10.'
.
Keeping the 'equilibrio' however seemed to be Ancelotti's foremost priority. With Isco, James and Di Maria all on the bench, he still had 'bullets in the chamber' if he wanted to turn up the attacking pressure in the latter stages of the game (which was what he did). It seemed a sound enough approach to the game: especially with James scoring a scrappy goal in the tight affair. It wall went to waste however when Madrid conceded in the most familiar fashion: a set piece (I actually missed seeing it live as I ran to the kitchen to grab a cup of coffee – the match was at 5am Singapore time!).
.
It was then that Ancelotti, became more willing to take a risk by introducing Di Maria, sacrificing Modric's stability (he had a meh game anyway) for the Argentine's dynamism.
.
It's now finally clear to us that while having a Kroos-Alonso-Modric midfield will give us supreme control of a match, the combination can turn Madrid's attack stale. It will be therefore VERY important to have a stash of sparkplugs (Di Maria, James, Isco) either on the bench or in lieu of one of the 3 pass masters (Kroos, Alonso, Modric) in certain games.
.
I hope that this game would serve as the adequate message to Florentino that selling Di Maria
might turn out to be a massive mistake
. Because while Di Maria is not a superstar comparable to the likes of Ronaldo and Messi, he is nonetheless a player who brings elements to Real Madrid's game that no other player can replicate.
.
.
Questions for the Front 3
After seeing him tear Sevilla apart in the UEFA Supercup, all of us were given an eerie reminder that Cristiano Ronaldo might now be entering that dreaded phase of his career (where father time begins to creep in, in the form of more frequent niggles and knocks). We have the acquisition of Bale and James (who came in for CR7 in the second half to buffer the blow, which is massively painful nonetheless. James however was still playing on the left side, whilst Bale remained on the right. Might the team have done better if they had switch flanks instead? After all, playing on the left has not necessarily hindered Bale's goalscoring ability (he played on the left during his famous 'Taxi for Maicon' game with Spurs vs. Inter). James on the other hand, was a right-sided player with Porto before becoming a full-fledged '10' for club (Monaco) and country.
.
With Ronaldo injured, and Atleti's defense giving us migraines, Real Madrid had a slew of lethal ball deliverers on the pitch. Alonso, Modric, Kroos, James, Bale and Di Maria are all capable of delivering long crosses into the box – except that Benzema is no target man. Might we have had use for a center forward capable of being an aerial threat out there last night? You might not agree with the idea of acquiring Tiger Falcao, but you have to admit that there were moments last night where you wished you had someone to send those crosses to behind Atleti's defense.
.
.
Quick Thoughts
I'm happy that the decision was made to do away with the pasillo shenanigans last night. The Supercup is a meeting between 2 champions, it's hardly the appropriate occasion to play a game of one-upsmanship on trying to weasel a pasillo out from the other team. I was thus pleasantly surprised to see the touching tribute to the great Di Stefano instead prior to kickoff.
.
Did Sergio Ramos throw a punch at Mario Mandzukic? I watched the game on a blurry stream but it did seem to be the case. If so, then he ought to be punished for that. I'm a Real Madrid fan, but there should be no place for cheapshots in the game. In fact as a Real Madrid fan, we all ought to be outraged that a player who wears the shirt behaves in that manner.
.
Diego Simeone ripped out a page from Jose Mourinho's playbook with his post-match comments (calling Di Maria our best player). While what he said was true, it was a clear attempt to poke / provoke Real Madrid by making such a remark about a player who is reportedly seriously considering his future with us. Clever move, El Cholo.
.
.
Bracing for Round 2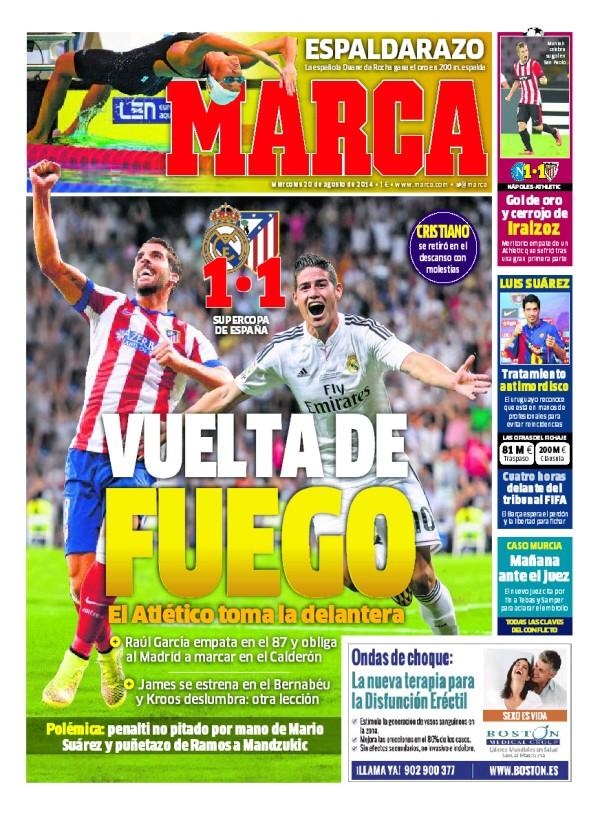 All to play for in the second leg
While it's true that the team's performance (as well as the result) is a source of much disappointment, it must not be lost on us that we are playing the La Liga Champions and Champions League Runners Up. The team's dour play cannot solely be attributed to bad performances by the players but should also be chalked up to the effectiveness of Atleti's play. 1-1 to me is a fair result. And though Atleti currently have the 'away goals' advantage, it is not unfathomable for us to score at the Calderon and even things out in that regards. I would in fact say that the tie's arrangement might be to our advantage: as any goal we score on Friday (when things REALLY count), will be an away goal (much like what happened in Munich last season).
.
Round 2 is on a Friday Night! Friday Nights are for beer, ribs, chicken wings and the company of people you share laughs with. This Friday will be extra-special – it will be all that plus a Madrid Derby. And the ultimate 'bonus'? Seeing the boys lift trophy #2 for the season.