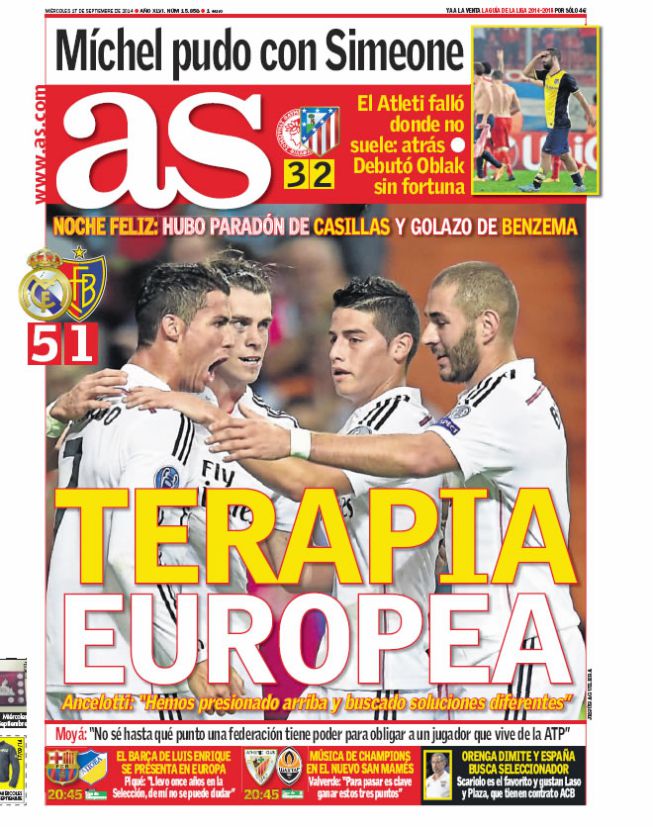 AS called it 'European Therapy', I on the other hand, think that the work which needs to be done ought to be something more along the lines of surgery.
It's been 5 hours and I still can't make up my mind: Did Real Madrid's 5-1 win over Basel last night set a roadmap to recovery? Or was it a smoke and mirrors magic trick to deceive us into thinking that Real Madrid are not in crisis?
.
Either way, it's hard to imagine that Real Madrid raised La Decima only 7 (official matches ago). That beautifully fateful night in Lisbon seemed like it was a long time ago in light of the 'crisis' the club seems to be in at the moment (3 points from 3 La Liga games).
.
In any case, I will leave it to others to decide / judge on whether Real Madrid are in crisis. What is clear to me however is that this season seems to be following the same pattern as last season: that the Real Madrid starts by beating 'easier' opponents (Cordoba, Basel, a Rakitic-less Sevilla) out of the sheer quality but suffers against tough, clever opponents who are unafraid to stand up to us. Last season, it was only in October, with the return of Xabi Alonso, where the team's shape and style of play finally began to make sense and correspondingly gave us, the fans reason to believe that the team was going in the right direction.
.
This season looks to be following the same pattern: a rough start in a struggle to figure out a tactical puzzle to fit the updated personnel pieces into a coherent style of play. Yes, yes, yes, it is outrageous to use this as a description to a Champions League-winning side – but it is what it is.
.
Fundamentally, my assessment of the team is that it's got a broken spine. Because while the team is world class along the flanks: Marcelo/Coentrao + Carvajal at fullback, plus the glowing performance of Nacho at Right Back last night, together with Ronaldo and Bale at the wings (possibly with James as a backup in those wing positions, together with the much-anticipated return of Jese), right through the middle, the team is a tactical mess. From goalkeeper, to defense, to midfield, to attack, Carlo Ancelotti has much work to do.
.
.
The 'Back 3' - Beat the Sacred Cows
Iker Casillas was the target of very audible boos and whistles all throughout last night's game – an aftermath of the somewhat unfair blame placed on him from Tiago's opening goal over the weekend. In my opinion, Iker was NOT at fault for any of Atletico's goals. Both goals were conceded from shoddy defending. It is difficult however, to miss the fact that his confidence is at an all-time low. And for a goalkeeper whose assets are solely dependent on his confidence, this is fatal. His teammates know it too. At the Anoeta, Pepe and Ramos both chose to blitz the opposing wide player rather than hold their position in the middle to head / clear away the cross. The only logical explanation for this irrational decision of theirs is that they were too scared to deal with the incoming cross and thus instead chose to attempt to stop it from coming in the first place. If we were not bleeding points, then I would have no problem with this heroic attempt to restore Iker's confidence. Having dropped six achievable points in the league though, I do think it's time to let Keylor Navas have a try.
.
Iker isn't the only 'Sacred Cow' that needs to be whipped however. Pepe and Ramos also need to be jolted awake. The goals conceded last night, in the derby, and in the Supercopa were all classic examples of lapses in concentration from one or both Pepe and Ramos. We have the world's best young Centerback on the bench – let him have a chance to show these complacent, sleepwalking fogies that their place in the starting XI isn't guaranteed and that everyone needs to buck up.
.
.
The Midfield – Trust Issues
I am most sympathetic to Ancelotti over what has happened to the midfield. Just as he thought he had the world's best midfield (Kroos-Alonso-Modric), the rug gets pulled from beneath him (Alonso's departure), leaving a gaping hole right through the epicenter of his team. No longer with the option of introducing a midfield utility man into the midfield (Khedira's injury), Ancelotti is left with a question: Who does he trust more? Illaramendi? Or Kroos?
.
I honestly find it a bit lazy when people simplistically believe that sending Illaramendi in to play the Alonso role is the solution to the midfield problem. While it is true that the Basque is more comfortable being the deepest in a midfield 3 and thus becomes the CBs last line of protection, Illara has yet to show us that he can be the team's brain. Without the ability to dictate the tempo of the match, make passes that open up space for attacking players, or make those 'armor-piercing' long range passes, Real Madrid's possession can easily become sterile if he fails to measure up.
.
Toni Kroos possesses this ability. What he lacks is Xabi's defensive positional sense and willingness to get his hands dirty with the requisite ball-winning responsibility that the 'central pivot' role demands. There are those who say that Kroos is too slow for the role, but since when was Xabi Alonso Usain Bolt?
.
With the transfer window closed and Champions League under way, it is realistic to assume that bringing a 'physical beast' type of midfielder (e.g. Pogba, Vidal) even in January is a no-go. That will need to be a question for the next summer transfer window. Ancelotti's only option now is to see who wins the race between Kroos and Illaramendi (who was given a run out last night) to play the Alonso role and successfully climb through the steep learning curve it requires. If Carletto is successful, we'll have and answer by October (just like last season, where the answer was Alonso's recovery). In the meantime, we'll need to hope for more naïve opponents like Basel, who would be idiotic enough to give James, Modric and Kroos room to loop balls into space for Bale and Ronaldo to kill them with.
.
.
The Striker Conundrum
The other end of Madrid's spine is the team's central striker. We've talked endlessly about how Benzema is the striker best suited to play with Ronaldo and Bale because of his unselfishness and the fact that he embraces his role as a 'frontline facilitator.' Having said all that however, 2 goals in 18 games (prior to last night). The BBC is NOT a one-way street. Benzema does not exist SOLELY to serve Ronaldo and Bale. Benzema himself ought to be capable of scoring on the multitude of chances (many of them on a silver platter) served up by Ronaldo and Bale to him. Getting on the scoresheet last night give him some momentary relief, hopefully for him, just enough for him to snap back into gear.
.
Chicharito for me is not the answer. He is, in my opinion, a poor man's Pippo Inzaghi. He can't dribble through his opponents, can't put in a defensive shift, can't hold the ball up or be a target for an aerial ball. He is 'only a goalscorer' – which means that except for the times he scores, your team is effectively only playing with 10 men. He is thus perfectly suited to being a late game sub when you're in need of a late goal. Chicharito is thus, to me, not someone who can be viewed as competition for Benzema.
.
Real Madrid does however have a player, who likes to play as part of a front 3, can make the killer pass and is capable of scoring fantastic goals. He was in fact, the World Cup's golden boot winner: step forward, 80-million man, and 2014 People Magazine Sexiest man in the world James Rodriguez (who opened his account with a poacher's goal last night). I wish to be clear however that I'm not asking for Benzema to go to the bench – I would however, like to see Ancelotti give a Ronaldo-James-Bale front line a shot and in doing so, also allow Isco an opportunity to play as part of the midfield 3, where he has shown lots of improvement.
.
.
Not the time to push the panic button
All is not lost, there is still enough quality in this team for nights like last night. Ancelotti just needs to do more work to make the pieces fit together.
It's early days and the time has not yet come to push the panic button. It can in fact be argued that had we won or drawn the derby Madrileno last weekend, things wouldn't 'feel' so bad right now. Last night's win might have been the equivalent to seeing the silhouette of the blueprint for the team to find itself once again. Either way, there is work to be done, and in Ancelotti's case, some surgery to be performed.