Kaushik, Ryan and I talked about last Sunday's win vs. Levante, rejoice over Modric and Ramos' return and ponder the Bernabeu's right to boo. The podcast can also be listened to / downloaded here:
.
.
Ah, a win at last. I never thought I'd find myself saying that while referring to this Real Madrid, but here I am. We've lost to Athletic Bilbao and then a really embarrassing one to Schalke - a week before a Clasico. That's the absolute WORST way to 'prepare' for the game which may decide the fate of our league campaign. We needed a win really badly, not just because the night started with Barcelona ahead of us by 4 points on the table, but also because we needed that vital sense of self-belief that we are capable of winning at the Camp Nou.
.
.
Sergio Ramos started and played the full 90 minutes. Luka Modric started and played more than 70. Toni Kroos on the other hand, did not play. All three went through some form of a recovery process. Whether it's to get themselves into up-to-par conditions in terms of match fitness after missing so many games (Ramos, Modric), or getting a rest (Kroos), Real Madrid are getting the much-needed physical recovery that's critical for the homestretch of the season. If there was ever a reason to have optimism in the face of the 2015's bad results, those reasons have always rested on the return of our key players who had gone down through injuries (Modric, Ramos, James) as well being able to find the opportunity to allow the team's 'over-played' members to recuperate from having too much mileage on their legs (Kroos).
.
Coming away with a win while resting Kroos in particular was very important. Kroos is not the most physically gifted player of the team, his game instead is an extremely cerebral and technical one. Rahul summed this up with a very astute observation (in a comment he made in
last weekend's podcast
): that the German seems to have a 'sixth sense' of knowing that a tackle is coming and where it's coming from. As fatigue sets in however, his ability to do this diminishes, and so does his other critical mental / cognitive faculties in reading the game, facilitating play, opening spaces for team mates and dictating the tempo of the game.
.
.
Tactical Recovery
Last night, there was a noticeable drop in Real Madrid's level in terms of dictating the tempo of the game from the 'Kroos position', which was played by Lucas Silva. That drop however (also possibly due to the quality, or lack thereof of our opponents) wasn't too significant - and thus Real Madrid did not suffer too much in Kroos' absence. Because while Lucas did not have Kroos' considerable 'court vision', Lucas is not a 'ball stopper.' The momentum of the team's buildup play basically doesn't come to a halt when the ball is played to him, as he is capable of pinging it about even if it won't necessarily pierce the heart of the opponents' defense. It must also be noted that Lucas Silva also has an impressive passing range and offers an added layer of physicality to the center of the Madrid midfield. Finding an understudy to Kroos who isn't a ball stopper (like Illaramendi) is a big step forward for the club: it enables us to rest the German ahead of big matches without paying too steep tactical price.
.
The best part of the night however for me as a Real Madrid fan, was seeing a short scrawny Croatian midfielder wearing #19 play. Madridisimo has greatly missed Luka Modric and it's easy to tell that the team plays at a much higher level with him on the pitch. Even in that disastrous performance midweek last week against Schalke, Real Madrid looked far better and far more balanced with Modric around. The really funny thing about Modric however is the team not only becomes considerably far better when pushing the ball forward to attack when he's around. Defensively, we are a far better side too with him - and this is a big surprise when we realize that the players who have recently been asked to fill the void he has left in his absence are players whom we all perceive to be more defensive than him (Khedira, Illaramendi and to a lesser extent, Lucas Silva).
.
The key to Modric's success in his position is his very deep understanding of it, and the fact that he is comfortable in both the advanced areas and deeper positions of the pitch. This gives him the ability to know when to push up with / without the ball and when to sit back. This is in contrast to Khedira and Illara who are both more comfortable sitting deep and so when asked to perform the 'Modric role', either get lost at sea mindlessly wandering forward while leaving gaps behind without necessarily contributing significantly on attack (Khedira), so sitting so deep that his front 3 become isolated and become ineffective (Illaramendi). The troubling thing for the 2 however is that they also seem to be ineffective in ball recovery once its lost. This thus brings us to the ultimate curiosity re: Modric - that Modric is also better at performing the defensive requirements of his role as compared to his naturlly 'more defensive' substitutes (Khedira and Illara).
.
.
Mental Recovery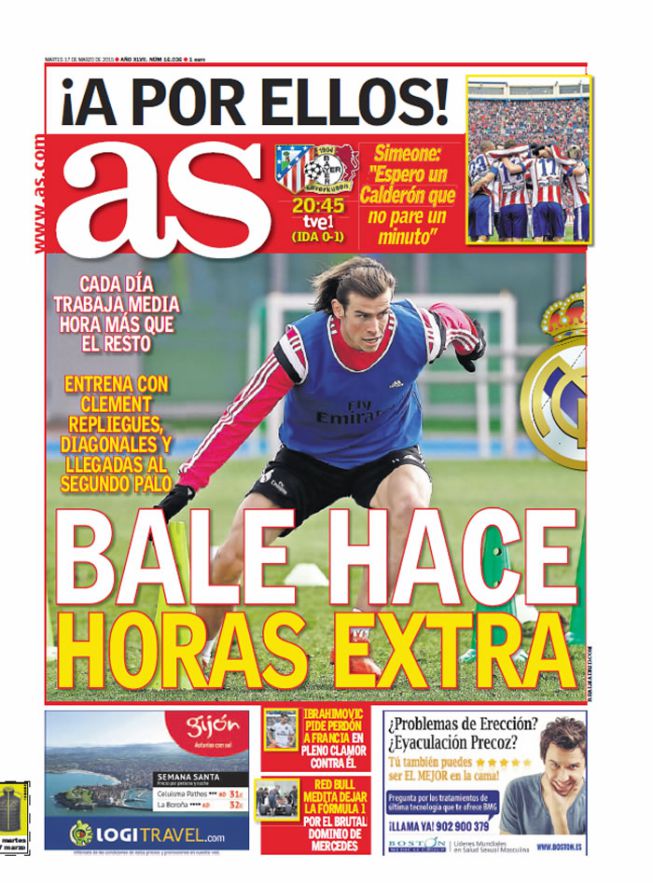 So only after he scores 2 goals does the Spanish Media start talking about Bale's extra hours in training to regain his form.
.
It must be said however, that if there was one Madridista whose game was characterized as a form of mental recovery, then it would have to be Gareth Bale. His first goal was an astute finish with his weaker right foot, an instinctive finish of great class. His second goal in my opinion was really more of a fluke. To me at least, the replays clearly show Bale attempting to GET OUT of the way from the ball's path upon Ronaldo's vicious strike. It deflected off his shin as he attempted to backpedal away from the path of the ball, and into the net. And just like for the first goal, Ronaldo's strike looked to be on target, but this time with a cannon-ball-like speed towards goal.
.
For Gareth Bale however, I would also like to look at his performance not merely because he was able to get on the scoresheet and break the unpleasant streak of 8-9 games without a goal. Gareth Bale's performance on the night reminded me of the sort of performance we see from Chelsea's Eden Hazard: he's not the destroyer of worlds in the way that CR and Messi are, but he was most definitely the man who gave you the feeling that if his team was going to get on the scoresheet, that he was somehow going to be involved. This is the sort of performance we need to encourage from the Welshman: that if the goals and assists aren't necessarily coming, the constant effort and willingness to be an absolute pest on attack ought to be the minimum we should expect from him. With the benefit of hindsight, I would think that I'd still be praising his performance even if he did not score the goal.
.
.
Recovering Ronaldo
In startling contrast to Bale however is our very own superstar Cristiano Ronaldo. Much has been said about his performance and also his reactions during the game - some of which have shockingly earned him boos, whistles and white handkerchiefs. And let me just say that I'm deeply disappointed by the behavior of these spoiled fans. Many of them seem to have forgotten that if it weren't for Cristiano, we would be out of the Champions League by now.
.
Ronaldo had a bad game, let's all admit that. Even he knows that, which in my opinion, explains his reactions on the night. Cristiano is lacking that final edge of sharpness: that final inch of precision in his game that would turn a touch into a goal and a flick into a perfectly-laid assist. Playing time and confidence and encouragement are the only antidotes to Ronaldo's current doldrums. This is not a player who spent the night before the match in a nightclub chugging booze. This is a player who spends every second of his existence to the perfection of his craft as a footballer. And on the days where things don't come off, fans like ourselves ought to rally behind him to offer him support, and lay down our brickbats.
.
The most disappointing criticism of all in my opinion come from those who knock on Ronaldo by claiming that he isn't happy for Bale's success (at scoring 2 goals, both created by him). This is horseshit. Watch the replays again and one will realize that Ronaldo is pounding the floor NOT because Bale had slammed in the rebound of his acrobatic shot cleared off the line, and thus scored, but because he is upset with himself as to why his body was not able to contort itself to the perfect state in needed to be in to execute that magnificent attempt at a bicycle kick. Ronaldo is NOT unhappy over his teammates' success. He is unhappy because he is trying so hard to find his groove and is frustrated that he still can't manage to snap into it.
.
.
Recovering The League
I'd feel pretty good about the chances of this Starting XI against Barca at the Camp Nou this weekend.
With the exception of James (who is replaced by the wonderful Isco), Real Madrid have completed the recovery of its team as it heads to the season's homestretch. Modric has the look of a man ready to play 90 minutes against Barcelona, and so does Ramos, following injuries to the 2. Kroos on the other hand got himself a much-needed rest while Bale got his much-needed goals.
.
To tilt things further to our advantage: Barca have a midweek Champions League tie against Manchester City. Barcelona hold a 1 goal lead but have 2 away goals as they face a Manchester City side whose pride have been wounded by a weekend loss to Burnley. This is no dead rubber match. City have pride, survival and silverware at stake and can scare or damage Barca just as much as Schalke did with us.
.
We on the other hand have a full week to recover. Let's us all hope that by the end of Sunday, the League has been recovered too.