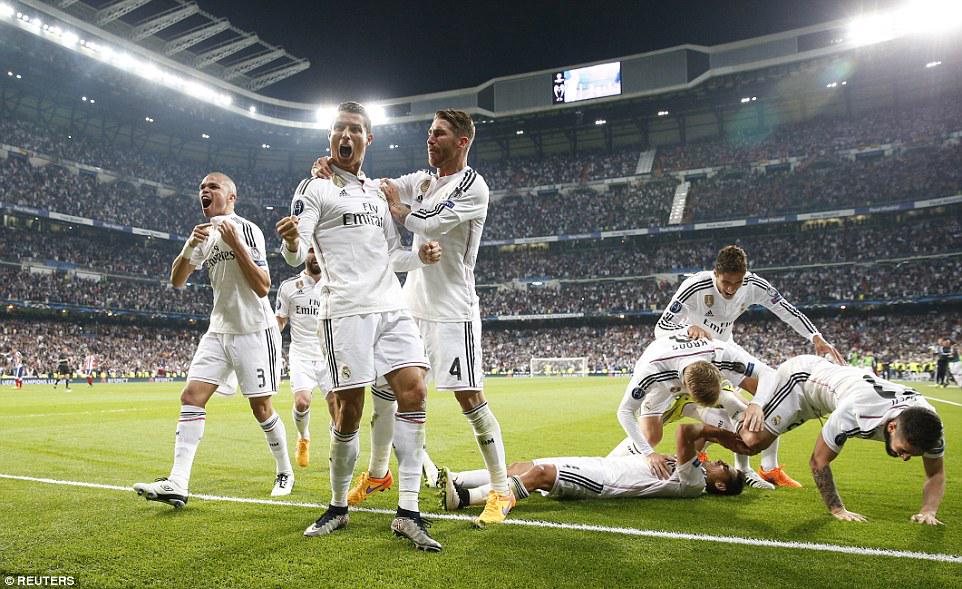 It seems like a scene composed for an epic oil painting.
Orgasm. Catharsis. Nirvana.
.
These were the words that I used to describe the sensations I felt at seeing Chicharito score last Wednesday's 88th minute goal and at hearing the referee blow the full time whistle that confirmed our entry to the Champions League Semi-finals, and sealed our first victory against Atletico Madrid in 7 matches.
.
I once found myself describing the current La Liga landscape to my Premier League-supporting colleagues at work: For Real Madrid and Barcelona, the goal was to win the treble EVERY season. For Sevilla, Valencia (pre-Peter Lim), Athletic Bilbao and Villarreal: Europa League Minimum, hopefully a Copa Del Rey Final appearance but to at least have a shot at grabbing that last Champions League Spot. And for Atleti, or rather, the Diego Simeone Atleti: to challenge the big 2 for the league title (Champions League qualification as a minomum) and to win Copa Del Rey. But perhaps more importantly for Simeone's Atleti - to win the derbies against us... and if they can't win or even draw - to at the absolute very least, kick the shit out of us while trying.
.
And in that regard, Diego Simeone's Atleti have been massively successful. After 6 winless games against them, a cloud seemed to have gathered above Real Madrid: it was as if the supernatural power that prevented them from beating us for more than 10 years not too long ago had changed sides and was now taking its grip over Real Madrid.
.
Last week, we didn't manage to beat them again. And though it was more ammunition for them to believe that the 'curse' had shifted fully onto us, our boys walked off the Calderon's turf believing that the curse had been broken. With Modric and James back in our midfield, not only were we unafraid of the physical brutality and the irritating gamesmanship they were capable of perpetrating, we actually beat them back into their own half, forcing them into a tiny little corner with only Jan Oblak there to save their skins. Our boys walked off the Calderon pitch with their heads held high, nodding in unison: 'we'll get you in the Bernabeu'. Until Benzema, Bale and Modric got hurt. And then the quivering began again (at least among fans like myself).
.
.
Carlo's Clever Move
Carlo Ancelotti however, was completely unshaken. 'Why worry about those who can't play? We should instead think about those who can." he said (I paraphrase). "I have the best squad in the world" he confidently said. It seemed like a statement meant to induce confidence at a time of uncertainty and worry over the loss of so many key players. Today, I now know that it was uttered in absolute self-confidence.
.
Carlo it turned out, had a clever little idea in his mind. While Madridisimo shook in fear, recalling Borussia Dortmund and Schalke at the thought of Illaramendi and Khedira taking up Modric's midfield place, Carlo pondered a series of facts: outside of Isco, he did not fully trust any of our midfielders completely beyond the first choice XI. He did however have an oversupply of world-class talent at CB. So he boldly decided to revisit his old idea of playing one of his CBs as a CM (he was vilified for it when he tried it in his first clasico).
.
His choice amongst the 3 was also as inspired as it was clever. Pepe could push the ball up on 'raids' forward (both offensively in runs with the ball that might remind some of the Brazilian Lucio and defensively in the manner Mourinho deployed him in the infamous 'trivote'), but we didn't need someone who could do so recklessly and risk defensive positioning. He needed someone who could hold his position, spray a few passes and bang bodies in the midfield. Occasionally, this player would also need to defend the right flank when Carvajal is caught upfield, and might even need to deliver a cross from the right flank should he find himself in that position while his team had the ball. Ramos, an ex-RB was the perfect choice.
.
This also had another knock-on effect: it gave us another tool to counter Atleti's favorite attacking weapon: the set piece. Having Ramos, Varane and Pepe all on the pitch meant there were more defenders on crosses and corners into our box. It also meant more targets for our attacking players to deliver crosses and corners to.
.
Make no mistake about it: Ramos is no Modric. His passes were mostly redundant sideways passes or back passes. He hardly penetrated the Atleti defense either. But thinking about it: how was that any different to what Illaramendi or Khedira could deliver for us in that role? Apart from set piece contributions, Ramos was also a bruiser - a meathead enforcer capable of trading blows and dirty tricks with Atleti's Dark Arts Masters - Arda Turan and his red card would tell you all about it.
.
.
JCC (James, Chicharito and Cristiano)
JCC doesn't have quite the same ring as BBC. The decision to push James to the front 3 whilst Isco took his midfield place was completely logical and is something that we've seen before. With Ronaldo's explosive pace seemingly gone however, large part of last Wednesday's game felt like it was in dire need of Gareth Bale. Without the Welshman however, our next best speed demon was Jese, and literally just minutes before we scored, I had tweeted my wish to see Ronaldo pushed on to become a full-fledged Center Forward and to have Jese replace Chicharito.
.
But alas, Carlo's faith in that front 3 combination would pay off with the move that won us the tie: a 1-2 combination between CR and James - Ronaldo drawing 4-5 defenders, plus the goalkeeper's full attention, then a pass to Chicharito who scored his trademark late-game tap-in.
.
.
Ancelotti's Triumph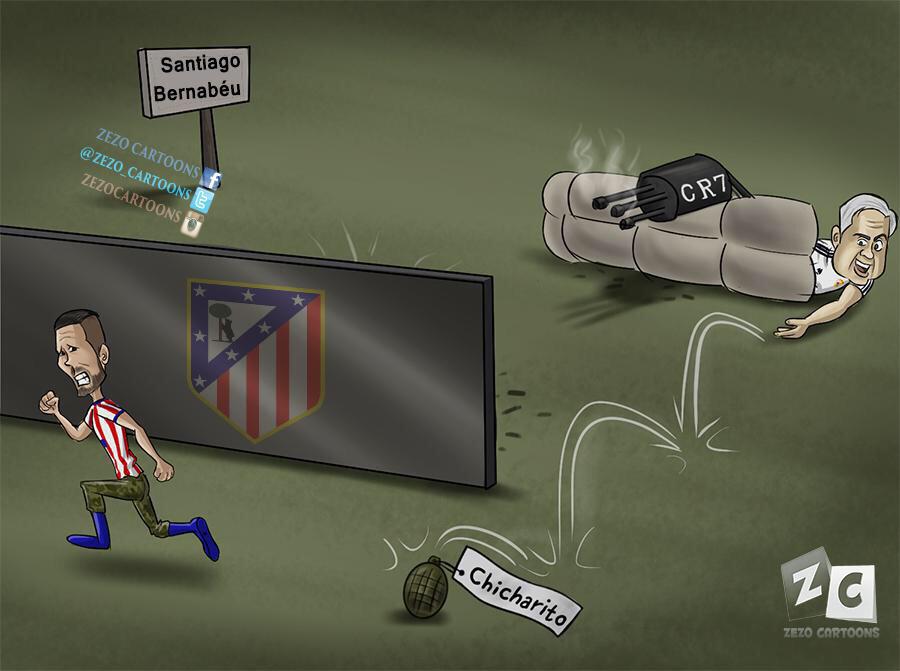 Carlo Ancelotti was the undisputed winner in the battle between the 2 Madrid coaches last Wednesday
It was an absolute triiumph for Carlo Ancelotti. On defense, Varane headed away 32,871,239 Atletico Madrid deliveries to the box, At midfield, the Ramos gamble gave us solidity, and extra man on set pieces and a talismanic figure who not only kept Atleti's bullies away, he managed to get one of them (Turan) sent away too! Simeone waited for Carletto's boys to lose patience, lose their nerves and make a mistake to pounce on. They didn't. The boys embraced the virtue of patience Carlo preached. And as they did, Simeone found himself playing a waiting game for extra time and penalties, sinking deeper and deeper into defensive mode. By the time Chicharito scored, Simeone had 10 men, 3 used substitutes and a spent Mario Mandzukic as his only offensive weapon.
.
Our wily Italian coach, had backed their supposedly fearsome Argentine coach into a cul-de-sac he couldn't get himself out of.
.
.
There are only 2 hours to go for the Champions League Semi-final draw as I write this. There are no more draws that can be deemed easier than the other. We are in true European giant territory now - the place for everyone to be at their absolute best.
.
We should not forget however that our hunt for La Liga resumes on Sunday as Barca play the Catalan Derby at Cornelia El Prat while we travel away to Vigo to face Luis Enrique's old charges, Celta. There will still be no Modric and no Bale. And just like last Wednesday, no room for error.