Kaushik and I talked with glee about Real Madrid's 9-1 win vs. Granada. You may also listen to/download the podcast here:
As a Real Madrid fan living in Singapore, I've had all sorts of meals watching my team play during ungodly hours: mostly 'midnight snacks ' for 2/3am kickoffs and unusually early breakfasts for 4-6am kickoffs and if I was lucky, dessert for 9-11 pm kickoffs. I have had, on occasion enjoyed a Real Madrid game over dinner (8-9pm kickoffs). I have however, never had caught a Real Madrid game BEFORE dinner. Last night was my first – watching the game between split-seconds of spoon feeding a toddler. It was a lunch time kickoff for Real Madrid, and I imagine the schedule of the match was a tricky one for their meal schedules too. So they decided to have Granada for Lunch.
9-1. It was exactly the scoreline and the performance that our team needed following last matchday's clasico loss. Nevermind that Granada were shit. Apart from fitness and fresh legs, what the team REALLY needed was a boost in confidence. And if a 9-1 win can't give you a psychological shot-in-the-arm, then absolutely nothing will.
Midfield – James is Back
They are now all asking who sits on the bench now that James is back. While this may be bad for one of the 2, this is NOT bad for the team - and we should all think on those terms at this point of the season
We received the news that James started training with the team following the Clasico. The sceptic in me thought of it as a PR stunt meant to revive the downtrodden morale of the Real Madrid faithful, but if it was serious, then it was great news. With a fully-fit squad, we can have at least 2-3 weapons off the bench when things soured for us. I had thus earmarked the 2 Champions League Derby games for us to see a fully-fit James Rodriguez: expecting to see a 30-minute cameo, followed by a 1 hour performance, before we finally see him play a full 90 minutes, hoping that he could hit peak form in time for the 2 derbies. I was thus expecting to see Lucas Silva play instead of the suspended Isco last night. It was instead a pleasant surprise to see James start.
'Simplicity' was a word constantly used by my fellow Merengue Bites Podcaster Ryan to describe James' play. It is however not a word we would normally associate with a player whose natural position is as a '10'. Players such as James normally have their team built around them and are relied upon to 'elaborate' the game in the final third to create scoring chances for their teammates.
The 'simplicity' required to play a central midfield role in a 4-3-3 however, is a very difficult level to achieve. Deciding when to make a one-touch pass, to stop the ball and pass it again, to pass it backwards (to the holding player / a CB) to 'recycle' the ball, to run with it, to loop it over swarming defenders or to attempt to thread the ball ala Guti is a very tricky balance that very few Central Midfielders can do. Modric comes to mind, but beyond that, there are very few. And for a natural '10', James seems to be quite a natural for the role as well.
With him and Modric on either side of Kroos, a very natural fluid rhythm settles in to the team, making the play very fluid and keeping the momentum going. It brings our minds back to the 22-consecutive-match-winning team of the 2014-2015 Real Madrid. And I will admit that I haven't realized how important he is to the team all this while. Maybe it's because I've been blind to his 11 goals and 12 assists so far this season (across La Liga, CL, and CDR): that's 23 goals he's been directly involved in!
The BBC starts broadcasting again!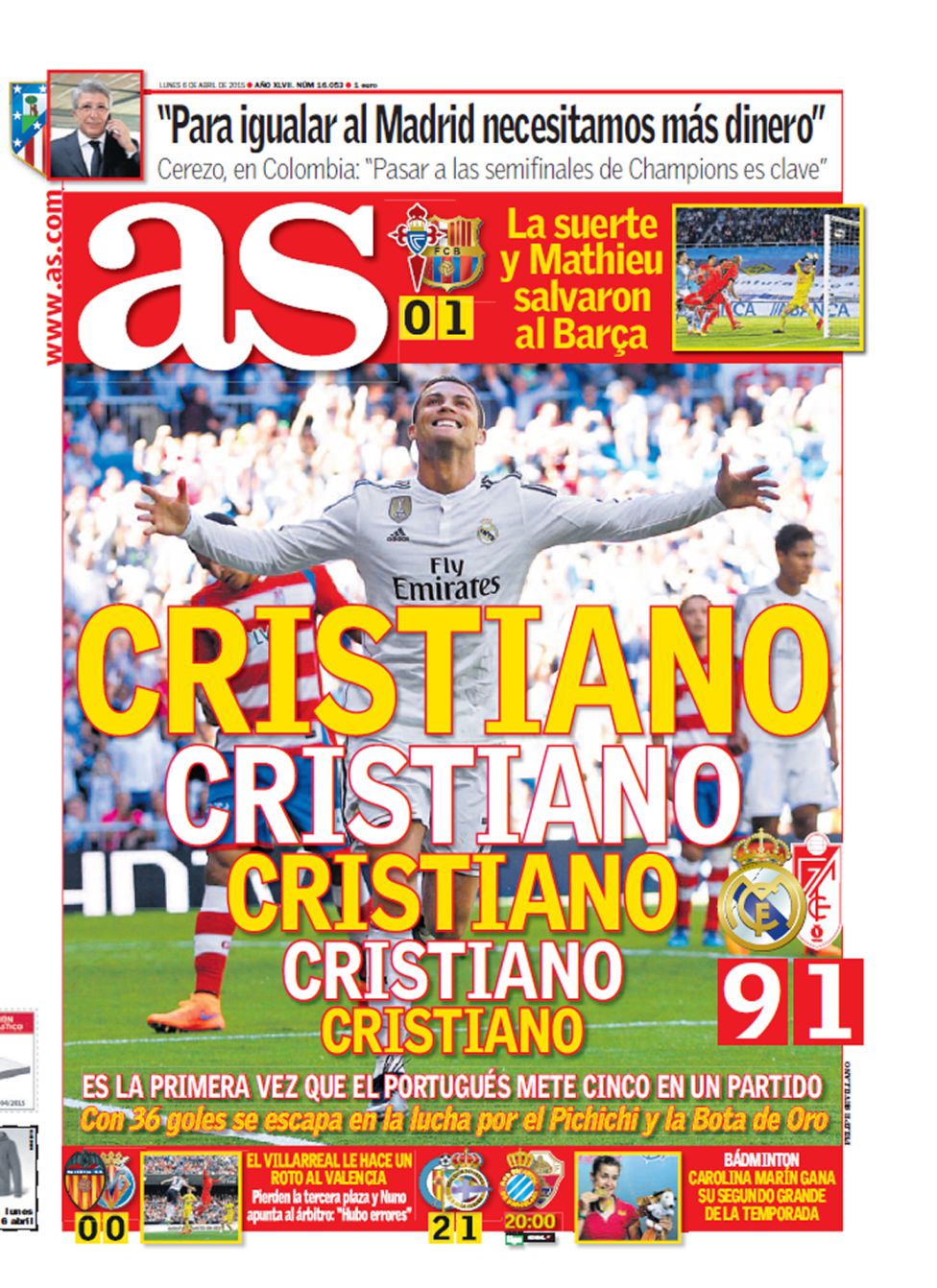 Cristiano's BAAAACK!
Real Madrid fans have had genuine reason to be alarmed by the very dramatic dip in form across the board that has happened to our front 3. Benzema started 2015 with promise but tailed off as the year went on. Ronaldo was reportedly nursing some sort of knee ache (a fact that made us hold our breaths for a while when we saw him slam his knee onto the goalpost), which also went along with his post-Irina heartache. Gareth Bale on the other hand couldn't make an obvious pass when an open teammate was clearly within reach, nor could he score on legitimate chances which last year's Gareth Bale would have handily put away.
Last night however, the BBC was back in full broadcast mode. The opener came from Gareth Bale, who pulled off a manoeuvre that had flashes of Raul and Emilio Butragueno's goals running through my mind – nearly the last sort of players I'd ever find myself reminding me of Gareth Bale (who is more about pace and power rather than touch and finesse). Bale was in full service mode too: assisting goals and associating well with those around him.
And while we all marvel that the technical brilliance of Karim Benzema yet again (who has 'quietly' amassed 21 goals and 10 assists in La Liga, CL and CDR – and we have 2 months to go in the season), everyone's attention last night was on Cristiano Ronaldo. Cristiano was finally back to his 'usual' self last night: unstoppable, irresistible and irrepressible. It was a classic case of
Ruud Van Nistelrooy's 'Ketchup Theory'.
Cristiano Ronaldo simply needed to un-choke the bottle. Last night, he completely shattered it. The key thing for me however was that many of the goals that Ronaldo scored last night were goals that the early-2015 CR7 would NOT have scored. His 5-goal burst is sure to give him that burst of confidence that he has sorely been missing these past few weeks / months, which will serve him in good stead as we head onto the business end of the season.
Prior to the match, AS published a 30/30 campaign – a rallying call to repeat the accomplishment of Fabio Capello's epic team that pipped Barca to the La Liga title for the first time in 5 years (?). It was an epic title run that I shall forever remember for little anecdotes like Ruud Van Nistelrooy holding up Gonzalo Higuain's jersey to the Bernabeu crowd after an epic 4-3 win vs. Espanyol and Espanyol's own Raul Tamudo torpedoing Barca's title hopes with a late goal at Montujic. It was an improbable run of consecutive wins when all seemed lost until the title was won and Real Madrid fans the world over caused the Club's official site to crash.
As Barca struggle to 1-0 wins off improbable goals scored by their Center Backs towards this business end of the season, while our best players are regaining form and fitness, the time to get the momentum to build up has come. Real Madrid will not need to leave their city in the next 5 matches (until they visit Celta). It's the perfect time to gain momentum (like last night), vanquish ghosts from the past (Atleti) and complete the resurrection that might just have begun this past Easter.