Kaushik, Ryan and I pondered the end of Real Madrid's season over last Friday's recording of the Merengue Bites Podcast. The podcast can also be listened to/downloaded from here:
.
The 2014-2015 season for Real Madrid is over. So what if there are 2 more La Liga games to go? It's over for us. No Copa Del Rey, No La Liga, No Champions League. The season that could have yielded 6 titles only yielded 2: and neither of them were the big ones.
.
It was of course poetic justice of sorts that a goal in each leg from Alvaro Morata would end our season - the sort of nightmare Deja Vu that brought painful memories of Fernando Morientes into the minds of every Real Madrid fan old enough to remember that bitter night in 2004.
.
Still convulsing in heartache, I find myself in a state of reflection, going through an 'examination of the (football) conscience' - reflecting on the season that has been. I am trying to do this whilst clearing away the debris left in the wake of last night's disappointment vs. Juventus (a Big congratulations is in order for the Old Lady). I also find myself recalling the intense twitter debate I found myself in post-match (until I decided that getting 2 hours of sleep for a full day at work was more important than getting my points across).
.
I have to confess that after last weekend's 'loss' to Valencia, my conscience began telling me deep down inside that the season would end in disappointment. The probability of repeating as European Champions was very low (no one had done it before) and having to do it by beating a Barcelona who have found its groove was no simple matter. In a way it was like waiting for death to come, hoping against hope that it wouldn't. And when it did, it was still awful.
.
With the benefit of an honest attempt to clear the red mist from my head, I have started to process the failures of this season for Real Madrid. And so far, the conclusion that I am coming to regarding last night's game is this: that last night's elimination at the hands of Juventus pretty much revealed everything that was wrong with the team. I suppose that's the sort of thing that can happen at this level of the competition: your weaknesses will be exposed and laid bare for all the world to see. It might be natural at first to be defensive about it - but like I said, now that the season is over, it's time to reflect, so here goes:
.
.
Don't Mess with the Economic Model
Many level-headed critics have their fingers being pointed at Florentino Perez and the board, while some have the misguided notion of blaming Ancelotti re:
the club's 'showbiz policy'
. There is a lot of truth to the criticism of course: we signed a coach who wanted to play a 4-3-3 whilst acquiring 2 '10s' during Ancelotti's 2 summer transfer windows at the club (Isco, James): this is classic 'showbiz policy'. The key to making the policy work however was to get a coach who could make it work - and Ancelotti was the perfect man for the job.
.
Here's where things get all muddled up though: those who insist in pushing the 'showbiz narrative' however also seem keen to add the departure Xabi Alonso and Angel Di Maria, 2 very good but non-showbiz types as part of the club's decision-making to further the 'showbiz narrative'. This is absolutely false. Di Maria's disagreements about pay were well-documented even before the last summer transfer window and Alonso insisted on leaving (at a very bad time!). Kroos was NEVER brought in to replace Alonso. I would argue in fact, that Ancelotti dreamt of lining up a Kroos-Alonso-Modric midfield 3 until Xabi's head was turned by Pep in Munich.
.
The point I wish to make is that while I agree that over-doing the showbiz policy will bring us back to the dark days of the Galactico Era v1.0, I also believe that no one is making the effort to push us there either, Florentino Perez included. We must also embrace the fact that the 'showbiz economic model' is vital to Real Madrid in this age of the Premier League multi-billion pound TV deal and Bayern's economic overlord status in Germany (where they are nicknamed FC Hollywood). La Liga's TV deal has gone the right direction of being based on a collective deal for the entire league - but that brings a setback to Real Madrid's income, and the club must rely more than ever on its 'Showbiz Economic model' to bring financial juice to the club. Without it, Real Madrid's ability to draw from the cream of world football's crop will be greatly diminished and will see it gradually slide into mediocrity if we do not maximize all our income-generating avenues for the club.
.
The key is to find balance. And if there's one thing that we should at least give Florentino credit for in this second presidency, it is that he is willing to spend money also for the role player (37m for Illara, 35m for Coentrao, 35m for Alonso) and not just the showbiz superstar (CR, Kaka, Bale, James).
.
Thus, I urge Madridistas the world over to see this season as being the equivalent to spilling coffee onto the upholstery of our new car and then rear-ending in against someone else's. There is no need to put dynamite into it to blow it up.
.
.
Squad Construction
The ridiculousness of the English Media (The Daily Telegraph) being spewed in the local papers here in Singapore.
If one was to summarize the season, it would go something like this:
-Things were great, we won 22 straight games, but somewhere along the way, Modric and James got hurt. And then we lost our mojo
-But then, they recovered and we started playing well again.
-But Modric got hurt again, and so did Benzema and Bale and without them at their best, things fell apart.
-End of Season
.
Modric's recovery (together with James) was the second wind the team needed to finish the season strong to put pressure on Barcelona and play at the highest level of world football: the final elimination rounds of the Champions League. But when he went down again, things just began falling apart. Ancelotti was left with too many attacking players, with too few competent alternatives to hold the middle down. Khedira's mind was on vacation, Lucas Silva too raw and Illaramendi has become Fernando Gago v2.0.
.
I've spoken about my 'A-list' and 'B-list' theory in the podcasts: Ancelotti essentially has an 'A-list' and a 'B-list' of players. A-list players are those whom Carletto would select to play with no worries regardless if they were automatic starters (e.g. Varane, Isco). The plain and simple truth however is that Ancelotti only had 2 'A-list' Central Midfielders (Kroos and Modric), thus when one of them went down, Ancelotti was left with 2 perilous choices:
1.) To play a 'B-Lister' (Illaramendi, Silva, Khedira). The results were mostly ineffective,
2.) To play an 'A-lister' who didn't really fit the role perfectly (e.g. Ramos as a midfielder or play both Isco and James, both 10s with Kroos like last night). The results have been mixed.
.
Looking back, despite Angel Di Maria's departure on the horizon last summer, it was clearly offset by the acquisition of James (who played the role pretty well having amassed 15 goals and 15 assists across 3 competitions so far). This would have left us with 5 'A-list players' (Kroos, Alonso, Modric, James and Isco) to rotate between 3 midfield slots. Of the 3 midfield slots, 2 of them needed to be occupied by either Kroos, Alonso or Modric. The loss of Alonso late in the transfer window however, was not compensated for. so we were left either scraping the B-list barrel, or forcing A-list round pegs in to square holes. And at this level, that's not good enough.
.
.
There is an argument that some blame (or some say a significant amount of it) needs to be placed on Ancelotti's shoulders. Kroos, among many wearing white on the pitch last night, looked ragged midway through the second half in last night's hot conditions. Looking back, it's not hard to recall matches where the team was up 3-4 goals with 30 mins. to go where the 'B-listers' might have been given the chance to give the likes of Kroos a rest. It didn't happen enough and there is thus strong merit to the thought that Carletto might have 'overplayed' most of our 'A-listers.' And that such fatigue has eventually accumulated and caught up with us late in the season.
.
.
The Search for Solutions:
Cristiano Ronaldo's Evolution
I am of the belief that as he has hit his 30s, Cristiano Ronaldo is slowly transforming into a '9'
Most of the 'noise' following the first leg loss at Turin were focused on Bale. Much of that noise carried over following the
verbal diarrhoea perpetuated by Bale's agent
which preceded last night where the Welshman had a slew of chances but couldn't covert. Many have gone back however and started asking
"What about Ronaldo? What did he do apart from scoring a penalty (with accompanying comparisons to Messi who often turns provider when unable to score)?"
.
My answer to this is that Ronaldo has been evolving in front of us and many of us aren't seeing it or are in denial about it. Newsflash: Ronaldo isn't a winger anymore (not that he's ever been one in a traditional sense). As he has now hit his 30s, and has started to feel the stiff hamstring every now and then, Ronaldo has gradually lost his Usain Bolt-like explosiveness and is beginning to evolve into his destined role: a striker. I'm not saying that he's become a Zlatan / Lewandowski-type of player (not yet anyway), but we are seeing him play much closer to goal than he was when he first arrived at Real Madrid or when he was blasting down the left touchline whilst playing under Mourinho's Formula 1 Football.
.
Last night, someone on twitter made the excellent observation that Ronaldo is becoming like another goal monster from Madrid's past: Hugo Sanchez. Sanchez was not a player who will participate much in the build-up, but will stab your heart with a goal when given the chance. The transformation may not be complete yet, but the signs are there.
.
I am also of the belief that the 'solution' to the Ronaldo and
the 'Bale Problem'
can be the same. If we accept that Ronaldo has become a striker (or at least a 'second striker' given that his evolution is not yet complete), then we must also accept that Bale has never fully acclimatized to playing on the right. At his best in Tottenham, the Welshman was either allowed to roam freely behind a striker or play on the left side (where he played in his now-famous 'taxi for Maicon' game). Unlike Ronaldo, Bale doesn't need to cut in, shift to his strong foot and shoot.
.
We must all consider the possibility that this evolved Ronaldo who plays much closer to goal now, can vacate his old stomping ground on the left wing (or do so on more occasions) to allow Bale more opportunities to play there. Bale after all has the skills to reprise the role of Ronaldo circa-2010-2013 to combine with Marcelo (who is also comfortable roaming to the middle with the ball on attack) and Ronaldo himself (now a forward) to create the world's most lethal left-sided attack.
.
Embracing Ronaldo's transformation into a striker might also save us the potential for a Morata / Chicharito dilemma: having a striker who doesn't play 80-90% of the time, but becomes uber-critical to the team when Benzema is unavailable. C-Ron and Benzema can both play with each other or split time playing as the team's striker, whilst allowing one of Bale or James (who can also contest for spots at midfield) spells of rest every now and then.
.
.
The Search for Solutions: Extending the A-List
Dani Carvajal looked like he was about to vomit his lungs out midway through the second half last night. With Danilo in the squad next season, I expect this not to happen if the 2 can share the load at Right Back.
.
The heart of the problem however is the heart of the midfield. Ancelotti needs to have a good look at Lucas Silva in the offseason / pre-season as well as the returning Casemiro (who impressed at Porto while on loan this season) and decide if they are A-List or even B+ List material. If the answer is no, and money is no object in the transfer market (as is usually is the case with Real Madrid), then Ancelotti must be allowed to shop for his next A-List Midfielder. And since we lack power, strength and muscle in the midfield, there is a strong argument to participate in the Paul Pogba sweepstakes this summer.
.
.
The Search for Solutions: Stop Playing Games Between the Saint and the Shit.
Last week in Turin, Iker the shit turned up. Last night, it was Iker the saint. Every week and every game we play starts with anxiety as we wonder which Iker will turn up. A team that aspires to League and European Titles every season cannot afford to dick around playing such games. The girlfriend of Spain's next great goalkeeper recently
described the English city they live in as 'uglier than the back of a fridge'
. David De Gea also happens to be a Madrileno (nevermind that he used to play for Atleti, he wouldn't be the first to move to the fairer side of town anyway). I also am a believer that when deprived of a choice, Mourinho would have no problems starting with Petr Cech in goal just as he has trusted John Terry all season at CB. David De Gea and to a lesser extent, Thibaut Courtois are both within reach for Real Madrid. 30m? 40m? To secure our goal for the next 10 years? A fair price in my opinion.
.
.
The Search for Solutions: Keep Ancelotti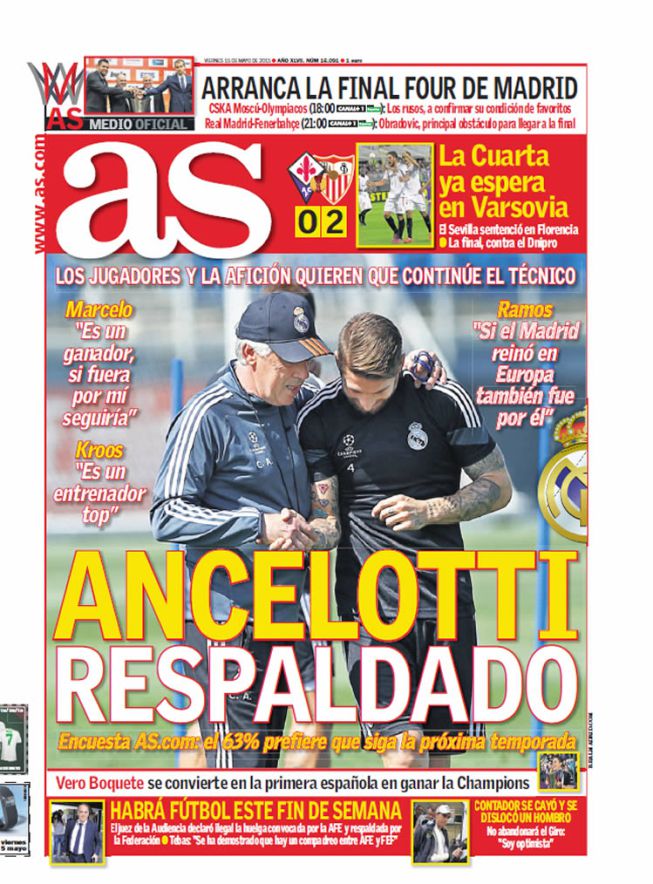 AS says that majority of the fans would like to see Ancelotti remain with Real Madrid. I am one of them.
If we stop being in denial about the fact that we employ a 'showbiz economic model' at the club, and that we only need to tune it down just a bit, then we must also acknowledge that the best man to coach this team is Carlo Ancelotti.
.
Let's all also admit the fact that Real Madrid is not the sort of team where you can sustainably force star players to accept lesser roles (i.e. long spells on the bench) to fit a preconceived tactical system. This normally results in the club inefficiently spending copious amounts of energy fighting battles in the media to justify benchings and the exclusions of star players.
.
We have now, thanks to Ancelotti a tactical model which can for the most part, flexibly accommodate a multitude of star 'glamour' players in the team. And while many credit Ancelotti for his uncanny ability to breed team chemistry, not many give him enough credit for his tactical nous. His ability to 'massage' players to accept roles which may partially be beyond their comfort zone is normally linked to his 'don't rock the boat' attitude in facing upper management. It's tempting to fit this into Ancelotti's 'Mr. Harmony' narrative and less about his tactical approach. A look at his CV however tells a different story: Andrea Pirlo, Clarence Seedorf, Angel Di Maria, and Toni Kroos have all been given unfamiliar roles where they have succeeded tremendously on an individual and team level, whilst giving Ancelotti's teams the much-needed added dimension to win titles.
.
.
Let's not be Toddlers
Some time last year, my son (he turns 4 at the end of the month) received a gift of a coloring book with a set of colored pencils. He enjoyed the gift tremendously and got to coloring the pages with aplomb almost as soon as he opened the gift. At about the 4th page, perhaps he was too over-eager, with the heavy, clumsy hand of a toddler, he pressed the colored pencil against the page so hard as he was coloring it that he ended up tearing it. He stopped, put his pencil down and almost with a sudden fury in his face, ripped the page from the coloring book. I was shocked. He then looked at me, exploded in tears and asked me to buy him another brand new coloring book exactly like the one he whose 4th page he had just ruined. He was inconsolable, livid and he wanted a do-over.
.
There was of course, no need for a do over. There was another page waiting to be colored.
.
Maybe it was Florentino's transfer policy that tore up this season's page of the Real Madrid coloring book. Maybe it was Ancelotti's poor (or non-existent) rotation policy. Maybe it was just darned luck with the injuries. At the end of they day however, there is no need to set the coloring book on fire. Because even if we've spoiled this season's page, there are still plenty of great things that can happen with what we have if we can learn our lessons and make the right adjustments.
.
Let's not be toddlers to petulantly demand for a do over. It's the time to cry, to process heartbreak, to reflect on mistakes made and contemplate the lessons which need to be learned. And when we're ready, we can turn the page and try again.