.
I'm in shock.
.
But contrary to the logical reason why a Madridista would be in shock, which is over sadness and grief of Iker moving on, my shock is because I do NOT feel that way. I started my weekend watching 'The Minions' with my son and ended it watching Federer duke it out with Djokovic in the Wimbledon final. I confess that as most of Madridisimo had enough tears over the weekend to mourn Iker's departure, his was a footnote to mine.
.
For people who follow the show Grey's Anatomy, perhaps I'm being like Amelia Shepherd, in the way she reacted to her brother's death (she spent the first months joking about it tastelessly and then almost suffered a nervous breakdown as it finally sank into her)... but not even I can promise that will happen. For all I know, maybe I've accepted for quite some time already that he needed to move on and this was merely a formality. For angry outsiders, they just might yell: 'Mourinhista! Mourinhista!' at me - they are free to do so. But here are my reflections on our saint.
.
.
It's hard to imagine a guy like Iker Casillas ever becoming a polarizing figure in the way that he has become over the last several years. A look into his history and his character as a person shows nothing polarizing about him. He is an incredibly likeable and admirable man and player. How could you dislike a guy who comes from such humble beginnings, who works his way into the world's greatest football club and becomes that club and his country's greatest ever goalkeeper? But it happened - Iker Casillas became a source of a divide amongst Madridisimo. And as unbelievable as it seems, it was written in the stars many years ago.
.
.
Ramon Calderon: The Economic Foundation
If I remember correctly, Iker's current contract was signed in the Ramon Calderon era. It was a 'lifetime contract' which was offered to the likes of him, Guti and Raul. My knowledge of the contract is sketchy, but the contract supposedly 'self-renews' itself upon the player completing a given number of the games for the season. What I was was not aware of however, was the pay packet that the contract supposedly comes with, which we now know to be a significant amount. Simply put, the amount and the terms of the contract did not take into account the possibility of the player's physical decline and performance on the pitch, and thus we are left to deal with a gap between how much he makes vs. how much he contributes on the pitch.
.
Those who have been following the saga of his departure know that the bone of contention between him and the club has always been the remaining amount of his contract. Many potential suitors fell by the wayside upon learning how much money they have to fork out for his services. Neither side can be blamed for the impasse: it is Iker's duty to himself and his family to get the best possible contract in the twilight of his footballing career, while Real Madrid has a wage structure to stand by on, as well as possible FFP compliance issues to deal with regarding the matter.
.
But neither side are blameless on the matter either: can't Real Madrid, the richest club in the world just give this club legend his money as a good will 'retirement gift?' And as for Iker: I point my finger to the NBA's San Antonio Spurs where Tim Duncan and David West took massive paycuts for the team. Granted that the paycut they took is to join the Spurs and not to leave it - but a good will monetary gesture is due nonetheless. It goes both ways. In the end, Iker departs to Porto where part of his salary will be paid for by Real Madrid, an fair enough arrangement in my opinion.
.
Florentino Perez and his celebrity-starved, money-making obssession maybe the easy target here, but let's look deeper. The root of the economic problem was one he inherited, he merely had to finish it off. It is however too simplistic to demonize him for doing his job of protecting the economic interest of the football club. He did not become a successful businessman by being stupid and sentimental with his own money, nor did he achieve Real Madrid's unparalleled economic success by being wasteful with money.
.
.
Iker's Sporting Decline: A Call to Self-Admission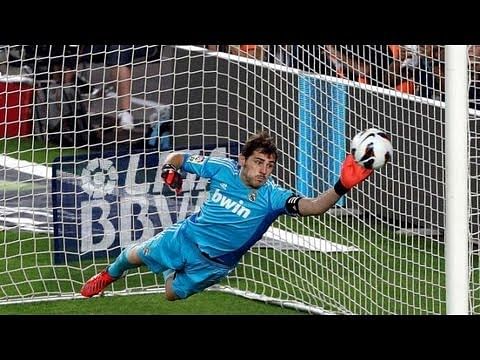 Every true Real Madrid fan knows what great football looks like. We know this having watched the Quita Del Buitre, Raul, Roberto Carlos, Zidane, Cristiano Ronaldo, etc. And by the same token, every true Real Madrid fan also knows what a great goalkeeper is: we know this because we've seen Iker Casillas play. Though we admired more 'conventional' hulking goalkeepers like Buffon, Cech and Neuer, we mostly didn't give a shit because he had Iker - and we laughed our heads off anytime people wanted to compare someone with him (just like how we as Madridistas collectively chuckled at the suggestion that Victor Valdes was as good as him). Truly knowing what a great goalkeeper is because of Iker Casillas also means however, that we need to admit that the Iker Casillas that we saw over the last 3 years has not been a great example of what a great goalkeeper is.
.
We must concede in our heart of hearts that the Iker Casillas we've been watching over the past couple of seasons, is not the same player who once created a forcefield around Real Madrid's goal many years ago, consistently for many many years.
.
Iker Casillas' virtues as a shot-stopper had always been dependent on his cat-quick reflexes, and equally cat-like agility - all rooted in his athleticism. Father time as they say however, is undefeated. And at age 34, Iker's athleticism and his ability to react has begun to decline. He does not have the physical characteristics to command the box the way the likes of Buffon and Cech do, and is thus unable to compensate for his declining physical abilities. Like many aging superstars, Iker is still capable of show flashes of his old self. He is however, not an outfield player. If it's still 0-0 at the 70th minute, it's logical to pull out your 34-year old striker who is having a stinker and can't convert his chances, and let a fresh young prospect try his luck. If you're down 2-0 however because your goalkeeper is having a stinker, subbing him out on the 70th minute probably won't make a difference.
.
I am not interested in sifting through the rubble of half-truths of whether Mourinho spotted or caused Iker's decline. I only know that he IS declining. And that it was time for Madrid to move on, just as how we've moved on from Bodo Illger, Santi Canizares and Cesar Sanchez before Iker. Iker Casillas will not be the last great goalkeeper for Real Madrid, though he might possibly be its greatest ever of all time.
.
.
There was always the option of keeping Iker around as a locker room presence, just as how we've seen Ryan Giggs gracefully transition from star player, to role player, to bench player, to part-player/part-coach to full-time coach. The difference however is the reaction to such transitions. There is no need to debate whether it was Iker, members of the media, his entourage, or just fans who raised a howl over his benching. We only know that his gargantuan shadow looms over any man between the sticks for Real Madrid not-named-Casillas. Just ask the excellent Diego Lopez.
.
The truth is that his history and his legend will always place a burden on anyone who chooses to follow him. Iker still believes that he deserves and expects to be #1 (nothing wrong with that). He believed it whilst competing against Adan, Lopez and Navas - and would have continued to do so against De Gea (if he were to come). Raul and Guti were reportedly told ready themselves to become squad players and reacted by opting for starring roles for Schalke and Besiktas respectively. At the end of the day, Iker chose the same path: and will be treated as royalty in Porto as he deserves, departing with the money which he has rightfully earned at Real Madrid. There is nothing wrong with this.
.
.
The Manner of his Departure
Florentino Perez - a man obsessed with image and its positive projection for the club would have foreseen the impact of Iker's
'lonely' departure from the club
. He knew that Madrid would be vilified for the manner by which Iker left - which is the reason why I truly believe he did not want Iker's farewell to happen in the simple, austere way it did. It is for this reason that he sent Raul and Guti off with much more pomp and ceremony: putting their trophies won on display in their farewell press conferences, getting their mentors to speak (Jorge Valdano, in Raul's case - or was it Butragueno), heart-wrenching videos and incredible tributes. And it is for this reason why after being vilified and demonized in the media for Iker's first farewell, that
he's had to scramble to put together an awkward follow up
.
.
It was widely reported that the stadium was being prepared for Iker's departure - that Perez was seeking Porto out to play the Trofeo De Santiago Bernabeu to honor Iker. And that all of this was supposedly turned down by Iker himself.
.
I have too much respect for Iker to believe that he purposely chose this austere departure from Real Madrid to make Madrid look bad and ungrateful - to be criticized and vilified the world over... and for Madrid fans around the world to be humiliated by other club supporters by giving them bullets to criticize us with. His emotions were real: he shattered to leave Madrid. But his heart is not filled with the
same bitterness and spite as that of his parents
, or for that matter, as that of many of his die-hard supporters.
.
I would rather believe that Iker chose to leave in a manner that was true to who he was: a simple boy from Mostoles who never fussed about the glamour or gliteratti.
.
.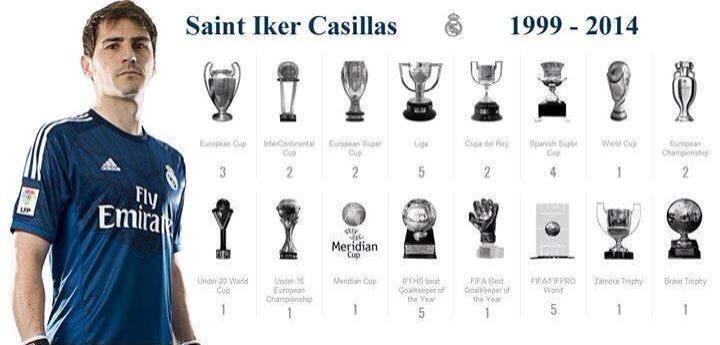 I'd like to end with some wise words from a Twitter Friend:
.
"It is possible to have wanted Iker Casillas replaced on a sporting level, while also respecting him."
.
I whole-heartedly agree with this. The time had indeed come for him to leave - perhaps it even came too late. As painful as it was to realize it, I had reached this conclusion some time ago and was more expectant and curious rather than anxious, angry and bitter about his departure. It was never going to be easy.
.
I've openly told people that I am a Real Madrid fan today thanks to Zinedine Zidane. It has been 10 years since he retired, and in those 10 years, players like Kaka (Milan), Ronaldinho, Zlatan Ibrahimovic, Cristiano Ronaldo and Messi have emerged possibly as greater players than him in the bigger scheme of things. Yet none have made my heart stop like Zidane.
.
Real Madrid will have many other great goalkeepers in the years and decades to come. None of them however will ever be greater than Iker Casillas. I say that with part objectivity and part sentimentality.
.
A Big Thanks Capi!