2 games. 2 victories. 2 UN-convincing victories. La Liga League Leaders nonetheless.
.
It is true though that some consideration must be placed on the fact that the BBC isn't fit. Ronaldo clearly isn't at his best yet. Despite missing Euro 2016, Benzema isn't 100% either and now, Bale has joined the party in the infirmary too.
.
So which narrative would we like to pursue? That we should be alarmed and filled with skepticism over the mostly-meh football (especially in the light of seeing Barca butcher Celtic 7-0)? Or should we trot out the age-old "Great teams can win without playing well" (especially in light of the fact that our BBC isn't fit)? I stand somewhere in the middle.
.
.
The Benefits of Great Squad Depth
Last Wednesday's Champions League groups stage match vs. Sporting Lisbon was a great display of our squad depth. I really enjoy watching the impact that subs can make on a game. It was something which we lost for a while (for some years), but this season's team has enough strength and have enough hungry players sitting on the bench, whether they are of star / semi-star quality (James, Isco, Morata) or just young players eager to make a splash (Vasquez, Kovacic, Asensio). Our current squad depth currently allows us to sleep the night before a match knowing a first choice player is injured, suspended or is being rested.
.
Last night's match was no different. With no Ronaldo and Bale, we had seen enough of Asensio and Vasquez to believe that achieving victory was possible even in a match away from home. To top it all off, last night was also a game where Zidane decided to reward James' Sporting Lisbon performance with a starting berth at the expense of Toni Kroos.
.
.
When the Solution to the Weakness becomes the Weakness too.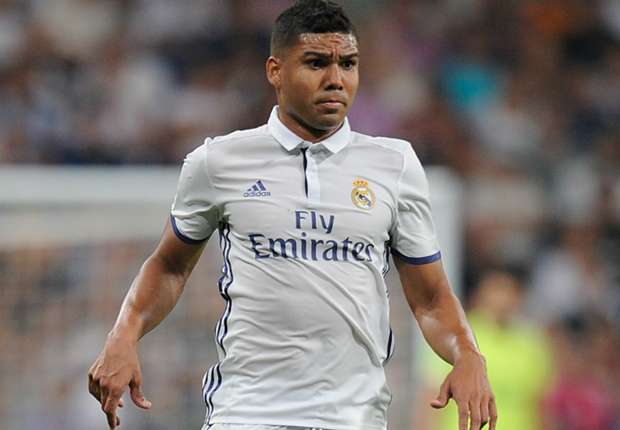 Casemiro: An Asset and a Liability at the same time.
After the mid-week Sporting Lisbon match, most of us celebrated Ronaldo's return from injury (a goal in his first La Liga appearance and his free kick goal after 2,345,450,934 tries) as well as Morata's late goal. We also found ourselves beating our chests with war cries about Real Madrid's 'remontada heritage' and 'noventi minuti en el Bernabeu es molto longo', etc. All this is true. But in many ways, it also masked (at least to many) certain 'inherent' issues with the team.
.
Too much has been written about how important Casemiro proved to me for us last season, on how Zidane's decision to shun big names like James and Isco in favor of Brazilian was what ultimately brought balance to the squad - hat it was Casemiro who proved to be the 'Solution to the Weakness.' Last Wednesday however, against the clever Jorge Jesus' Sporting Lisbon, we were mostly unspectacular, and bordering on the undeserving for 3 points. It was a match that I believe, we won 'by default', that we won simply because we had the more talented squad. I also believe however, that Jorge Jesus uncovered the team's new weakness: Casemiro. Yes, the same man who proved to be the 'Solution to the Weakness."
.
Last Wednesday, our current '14' was blitzed endlessly on possession. Now, if this was done to our old '14' (Xabi Alonso), this normally resulted in a long looping pass that would instantaneously become a scoring chance for our boys up front, but Casemiro is no Alonso. Thus, pressing him in possession normally resulted in a backpass or at best, a lateral pass. At worst, it resulted in the loss of possession and thus explains our midweek struggles against Sporting Lisbon.
.
Last night, Espanyol repeated the approach, and was quite effective: stunting Real Madrid's capability to create in midfield. Espanyol's pressing of Casemiro was actually so intense that it resulted in the Brazilian getting a knoc. And it was this that proved to be Espanyol's undoing: his injury ultimately forcing the Brazilian off and Kroos on - which finally gave Real Madrid the capacity to pass their way out of midfield and greatly improve on the team's capacity for ball retention and the construction of attacking play.
.
I am certain that every manager / coach worth his salt (including Borussia Dortmund's impressive Thomas Tuchel) would have noted this and will be forcing Zidane into a dilemma: stick to Casemiro and have a perpetual target for pressing, or utilize his ball players (e.g. Kroos) and ultimately be less defensively secure. This might be Zidane's current catch 22.
.
.
Quick Hits: Real Madrid Reunion
It was great to see a Real Madrid re-union of sorts out there on the pitch, seeing all the players out there who have worn both the white of Real Madrid and the blue-and-white of Espanyol: Asensio (on loan to Espanyol last season), Vasquez and Casilla (bought back from Espanyol) for Real Madrid and Diego Lopez for Espanyol, also keeping Napoli's Jose Callejon who scored over the weekend vs. Milan and played for both clubs. The recent shared history between the 2 clubs is heart-warming.
.
.
Quick Hit: Color Blind
Purple vs. Blue and White - way to make my eyes hurt!
I like the purple jerseys. But why wear them against a team wearing Blue and White??? My eyes are extra tired today because of this.