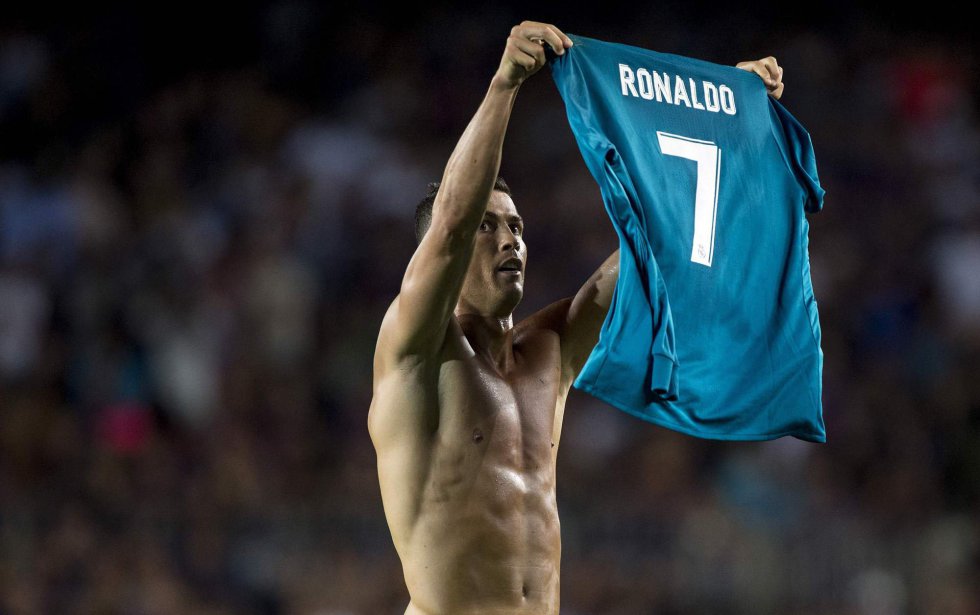 Bow down to the Master! All hail Cristiano Ronaldo!
It's been way too long since I've blogged about Real Madrid. Heck, we've won a La Liga title and another Champions League title since I last posted here. But like I said, life gets in the way. Things get intense at work, while the kids get bigger and thus demand more attention. Every time I find myself saying 'time to officially shut the blog down' though, I hear the other voice saying 'don't do it just yet' – and I guess that the source of this voice comes from the same part of me that's feeling this way… where the things I feel and the thoughts in my mind seem to generate a sort of electricity in my fingers to just put them all into words. And if you're out there reading this, then let's just call it a window into my mind about this wonderful team. I stopped blogging and podcasting because 'life got in the way.'
.
Well today, it's the other way around: Football got in the way. I'll have to put my life on hold for a couple of hours just to write about this so here goes:
,
,
Jerseys
WHATEVER HAPPENED TO 'LOS BLANCOS' (The Whites)???: Barca's kit was predominantly blue.... and Real Madrid chose to wear Blue too. For my 38-year old eyes. It was a problem watching.
.
It's Barcelona vs. Real Madrid. The bloody Spanish Super Cup: Copa Del Rey Champions vs. La Liga Champions. The 2 best teams of the past God-knows-how-long. This was a match real stakes, real intensity. So why the FUCK was Real Madrid NOT playing in their all-white kit?
.
I understand that we want to sell shirts and make money, even if the jersey looks like it was designed NOT for Real Madrid's football team and instead for the club's Minecraft team. Do that then in the 'friendly Clasico' played with half-fit teams, unlimited substitutions in front of people willing to spend $15,000+ USD for people who have nothing better to do with their money. Rant Over.
.
.
The '10' Question
This Real Madrid team today not only show Zidane's true key principles as a manager, both from a personnel and tactical point of view but also his evolution and growth.
.
Yes he was there during La Decima as Ancelotti's deputy: where we saw a Real Madrid team play a 4-3-3 in attack and a 4-4-2 on defense. But that was also the regime that struggled to deal with the '10 Question' what to do with among 2 of the world's best '10s' (Isco and James) sitting on the bench without a proper slot given to the very nature of their game. Ancelotti made it work for a few months with a Kroos-Modric-James midfield, but it ultimately didn't last: fatigue, injury and circumstances ultimately did us in and cost Ancelotti his job.
.
And yes, it was clearly Zidane's team that won La Undecima on penalities. It was a team built on the insistence of specialist defensive midfielder Casemiro being in the team. Kroos and Modric flourished. Yet the vaunted BBC front line 'crawled' across the finish line: with an injured CR7 and Bale barely able to make their presence felt in the final games and the 2 genius 10s still relegated to peripheral roles.
.
Last season, we saw Zidane implement the same tactical system but inject his own beliefs in personnel management on the way to a double. In doing so, he managed to not only secure key contributions from the entire squad, but more importantly, lay down a roadmap to accommodate the use of #10s into the team. James Rodriguez, deemed a peripheral player, finished last season with a not-too-bad 11 goals and 12 assists in all competitions. It was Isco however who captivated our imagination completely.
.
.
The Birth of the Diamond
Partly out of necessity (Bale injured for most of the season), partly because Isco had developed to a point where he could no longer be ignored, Zidane began playing Isco as part of the front 3, but given the license to roam as he chooses. This not only allowed him to play within his comfort zone, but it has done the same for both of the team's strikers, neither of whom are pure 9s. This allowed Ronaldo, to still attack the penalty box the way he likes, with darting runs from the wings. For Benzema, this also allowed more roaming freedom wide. And in theory (yet to materialize), the use of Bale's pace also attacking from the wings could be used as part of a pair of forwards. It was under these circumstances, heading into the business end of last season where Zidane's Diamond was born.
.
And while one could lament the loss of James, who could have greatly thrived having his turn at the tip of the diamond, we must also consider the fact that this too is the role that Gareth Bale aspired to play (as a '10' under Rafa's doomed stint), and a more mature Marco Asensio could play one day (more on him next time).
.
.
Setting aside a 'designated' slot for a '10', using the diamond also opens up opportunities for Zidane's wealth of midfield talent with Ceballos, Kovacic and Llorente having better chances to playing opportunities to cover for the world's current best midfield 3 (Kroos-Casemiro-Modric).
.
Last night, the diamond, without Modric (following a ridiculous 3-year old suspension) did to Barcelona what I've forgotten was ever possible: dominate it. Real Madrid's midfield are no longer haplessly chasing Barca's shadows or even tactically waiting for a chance to pounce. They are now a unit with the intelligence, skill and physicality not just with the ability to match Barcelona's midfield, but to outplay them completely. Casemiro's ball-winning has improved to match his boldness. Kroos can pass better than any Barcelona midfielder. And with Kovacic's ability to push the ball forward with Isco's magic wiggle in and out of every corner on the pitch, Barcelona were outmatched in midfield. I never imagined I'd say that one day.
.
.
Firepower
What Madrid disturbingly lacked however, particularly in the first half, was final product and firepower. While the diamond allowed us to beat down Barca's midfield, the first half scoreline did not reflect it. Gareth Bale (who has pined for the opportunity to become more than a winger) was given the tactical freedom he sought: he had the choice of flanks to run as well as plenty of chances to drift to the middle, including the spaces normally reserved only for Cristiano Ronaldo. He didn't produce.
.
Karim Benzema on the other hand, played as if he had forgotten that Cristiano Ronaldo was not on the pitch. When CR7 is on the pitch he is Robin (and he's the best in the world in this role) to Ronaldo's batman. Without the main man however, his mindset needs to change: HE needs to be THE alpha predator patrolling the opposition box.
.
It is for this reason that I worry deeply about this season's front line having lost Alvaro Morata to Chelsea (who debuted with a goal and an assist) and looking like we're going to lose the Kylian Mbappe sweepstakes to PSG. CR7 is 32 (turning 33 this season). If Benzema (19 goals / 6 assists) and Bale (9 goals / 3 assists) have a repeat of last season, I have deep concerns on an over-reliance on a 33-year old CR7, even if he's the greatest goalscorer in the history of football.
.
These concerns were all validated last night, we had to rely on Pique to score our first goal for us (which I enjoyed tremendously). And to get our go-ahead goal, we had to call on an only-partially-fit CR7 to win it for us. His first strike (saved) was circa-CR7@age 32: taking on his man and striking the ball across his body with his (slightly) weaker left foot. For the go-ahead goal, he needed to turn back the clock to circa-CR7@age 28: baiting his man (Pique again) to commit to a tackle, before cutting to his favoured right foot to score a signature goal from 5 years ago.
.
As great as Cristiano Ronaldo is, I do not believe that it would be sustainable for us to expect him to carry the goalscoring burden of the team as big as it is now. Perhaps Isco, Asensio and hopefully less injury-prone Bale can compensate for Morata and James' goals. Fingers crossed.
.
.
Officiating / Player Behavior
BAD MOVE: The ref made the wrong call, but Cristiano Ronaldo has no business putting his hand/s on the ref.
"Show him your jersey!" I yelled at the TV (it was 5am in the morning), when Cristiano scored Real Madrid's winning goal (I didn't realize he did it until after the match when I saw it on Twitter). This was my reaction as a fan in a cathartic moment. It proved to be stupid. The ref had already made the ridiculous error of awarding Barca a penalty for a blatant Suarez dive, we shouldn't have to be surprised he's capable of making an equally grave error in giving CR7 a second yellow for simulation despite the legitimate contact. That moment of emotional recklessness would return to haunt him as it meant a red card. Worst of all, CR lost his head, that slight shove of the referee, could reportedly cost CR7 as much as 4-12 matches in suspension.
.
Barring a PSG-like collapse at home, I have confidence in the team seeing out the Super Copa win on Wednesday without CR. The problem lies however beyond that. With the rest of the team in search of goals, a long suspension for CR7 can hurt us.
.
.
The Shoe in the Other Foot
Despite all that though, I am totally enjoying this moment. It feels great 'wearing the shoe in the other foot' (i.e. seeing the tide turn in our favour). For too long, Real Madrid have been the team that embodied being rich and clueless: buying senselessly glamorous players who couldn't fit into the team, hiring buffoons to coach / run the team, etc. Then we became the villains (Mourinho era). Now, we're the guys who buy superstars for 4m and sell backup 'reject' fullbacks for 30m. We're no longer the team filled with overpaid, unmotivated, over-aged has-beens. We're now the team with a CL+La Liga winning starting XI backed up by the best group of under-25 players in club football.
.
This season there are 6 titles up for grabs… and with plenty of reason to believe we can lift the 2nd this Wednesday, I feel all warm and fuzzy inside when I think about the season just about to begin. Let's get it on.